The Sketchbook of Clara Portsmouth
A Village Church – Grazeley, Berkshire
from the Sketchbook of Clara Portsmouth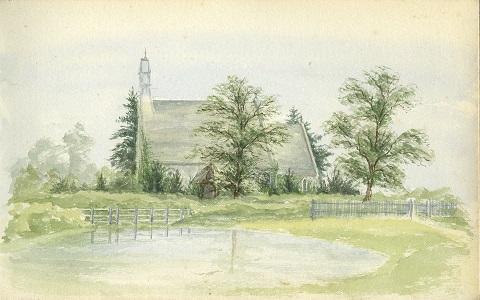 Collection of the Hampshire Cultural Trust.
This untitled sketch of a village church, with a pond in the foreground, was included at the end of Clara Portsmouth's sketchbook. The likely date is the 1890s.
An internet search of pictures of village churches revealed that the sketch gives a view of Holy Trinity Church at Grazeley, Berkshire, a short distance from Spencers Wood where Clara Portsmouth lived.
The two large, graceful trees in front of the church may have been blown down in a storm as they are not shown in the (undated) photograph below. It would be interesting to find some facts about this. It is assumed that the photograph is from the early twentieth century.
A telegraph pole appears to be at the far left of the photograph – maybe this feature could help to date the photo. (It is interesting to note that there is a Telegraph Pole Appreciation Society

).
More reading: A History of Grazeley Village

.