The Sketchbook of Clara Portsmouth
Heckfield, Hampshire
from the Sketchbook of Clara Portsmouth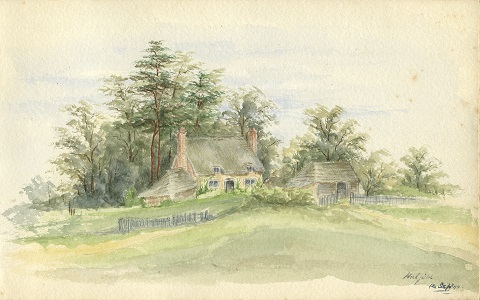 Heckfield 12 Sept. 1894
Collection of the Hampshire Cultural Trust.
The cottage in the watercolour sketch is possibly Cyclist's Rest, Heckfield
shown in the photo postcard below.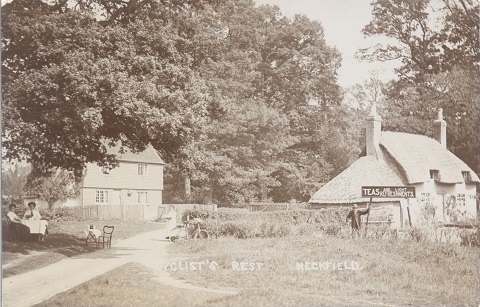 Cyclist's Rest, Heckfield. Photo postcard (about 1912).
The sign advertises: "Teas and Light Refreshments".
There is a record that Clara Portsmouth was a keen cyclist. The Reading Mercury, 25 January 1902 (accessed online at The British Newspaper Archive

) reported:
Reading County Magistrates' Office
Saturday, Jan. 18.
(Before Captain A. W. Cobham, Chairman;
Major Thoyts, Colonel Ward, C.I.E., and
Henry Waring, Esq.)
Cycling on the Footpath
Miss Clara Portsmouth, of Spencer's Wood, was summoned for riding a bicycle on the footpath at Shinfield, on January 6th.
She did not appear.
P.C. Mortimer, of Three Mile Cross, proved the case.
Miss Portsmouth complained of the dirty state of the road when spoken to. Fined 1s., and costs 7s. 6d.