Scenes from Basingstoke and the Area
Windmills to Railways
---
A social event in Basingstoke on 21 October 1790 was the wedding of William Whistler and Martha, the daughter of George Cleeve (1). William Whistler became a man of some prosperity – his property holdings included about 30 acres of freehold land named Winchester field in Basingstoke, freehold building land on the north or upper end of Bunyan's Place in Basingstoke, 18 cottages in Bunyan's Place, and leasehold lands called Vince's Farm in the parishes of Old Basing and Basingstoke (2).
In his later years, as a widower, William Whistler lived with his daughter Mary, her husband Edmund Portsmouth, and their children at Eastrop Farm in the Basingstoke area. William Whistler passed away in 1846. A monumental inscription from the old Liten at Basingstoke recorded the names: (3)
William Whistler, 13 Sept 1846, 80 years.
Martha, his wife, daughter of George and Martha Cleeve,
9 March 1832, 58 years.
William Whistler was survived by three daughters: Mary Portsmouth, Sarah, the wife of John Butler, and Martha Hannah, the wife of Denis Downs, and three sons: William, Charles and George (4). Denis and Martha Hannah Downs were tenant farmers and millers in Odiham, east of Basingstoke. At various times they were associated with Poland Mill, Potbridge Farm and Blacklands, Roke Farm and Lodge Farm (5). John and Sarah Butler became residents of Rotherwick, close to Odiham. George Whistler and his sons were active as tenant farmers at a number of estates on the Hampshire Downs. Charles Whistler had voyaged to America and made his home in Mercer County, Pennsylvania.
William, the eldest son of William and Martha Whistler, married Mary Butler on 13 February 1817 at the village of Upton Grey, the home of Mary, near Basingstoke. In the 1820s William purchased land at Norn Hill, Basingstoke, and started plans for developing a business centered around a windmill.
The windmill that was first constructed failed to work and a lawsuit was needed to recover costs from the builder. Repairs and upgrades to the windmill were then contracted to the Greenwich engineering firm of John Penn. William, accompanied by his father, travelled to London to negotiate the work. A flaw in the shaft was revealed when a strong wind blew off the sails and more expensive repairs were required.
The brick tower windmill drove three pairs of millstones for grinding corn, wheat and barley. To improve the property the hill was lowered by removing soil from about a quarter of an acre and spreading it over the other land. The site was developed with a house for William Whistler and his wife Mary, four cottages for tenants, a bakery, and buildings for horses, pigs, equipment and supplies. Commercial activities also included the cultivation of potatoes and the working of a chalk pit and lime kiln.
The operation of Whistler's windmill was doomed by the arrival of the railways. In 1839 a line of the London and Southampton Railway (later renamed the London and South Western Railway – L&SWR) was opened to Basingstoke. In the planning stages the railway company required the purchase of part of Whistler's land. In a written submission to an arbitration hearing William Whistler predicted the ruinous impact of the proposed railway on his business. His tenants, worried that their cottages would be demolished, had already moved away. He feared that he would lose customers as the railway line would block the main access road forcing trade to divert to a longer route. He was also concerned that railway activity close to the windmill would damage the foundations of the windmill. In noting that, in response to an appeal from the inhabitants of Basingstoke, the railway plans were adjusted to avoid going through the Liten, the burial ground by the ruins of the Holy Ghost Chapel, Whistler lamented that 'the dead was of more consequence than my premises'.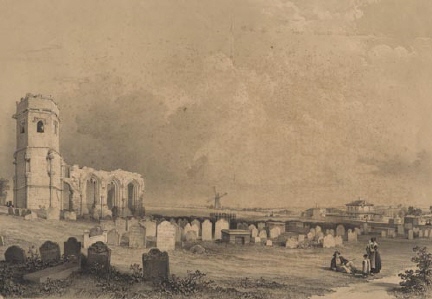 Whistler's windmill, Basingstoke, 1841.
The foreground shows the ruins of the Holy Ghost Chapel and Liten (the burial ground)
looking east to Whistler's windmill.
In the background on the right is the London and South Western Railway station
(Arthur Attwood, The Illustrated History of Basingstoke, Breedon Books, 2001, p. 88).
Print drawn by O. B. Carter, lithographed by G. Hawkins, and published by Robert Cottle
in 1841. From the Hampshire Museums Service Online Collections.
Consultants were commissioned to prepare valuations of Whistler's enterprise to guide in assessing a purchase price. A report dated 5 April 1838, submitted by John Money of Donnington, Newbury, noted that financial compensation should recognize that the part of the property not purchased by the railway would deteriorate in value. John Money emphasized that 'the propinquity of the railroad to the mill and buildings must in my humble opinion very much endanger their stability'. An arbitration award of £905 was paid to William Whistler in 1838, before the railway was built.
In 1848 the Great Western Railway (GWR) opened a line between Reading and Basingstoke. The design, based on a broad gauge track, required major new construction works at Basingstoke and a new station for the GWR was built to the north of the L&SWR station. The railway tracks did not allow access for the transport of goods from Whistler's windmill to the town and the trade for the mill was brought to a halt. The Norn Hill windmill was demolished in February 1849.
In the 1840s William and Mary Whistler made their home at Sevington Farm, Tichborne, near Winchester (6). They had no children. Mary Whistler, aged 50, died 31 December 1847; she was buried at Tichborne on 6 January 1848 (7). William Whistler retired to the city of Winchester where he married his second wife Maria Miles (8).
William Whistler passed away on 19 May 1856. He was buried at Tichborne near his first wife. His will provided for his wife Maria and gave generous gifts to the children of Charles and Patience Sherborn of Odiham who were the nephews and nieces of his first wife – Patience Sherborn was the sister of Mary Whistler (9).
The Portsmouth Family of Basingstoke
William Whistler's nephew Henry Portsmouth, the eldest son of William's sister Mary and her husband Edmund Portsmouth, was elected Mayor of Basingstoke for the 1875/76 civic year (10). In 1880 a Basingstoke directory stated that Henry Portsmouth served as an alderman, a charity trustee, and a borough magistrate (11). His home was located at Norn Hill – it is not clear whether or not this was the same house built by his uncle William near the site of the Norn Hill windmill.
Albert Portsmouth, a younger brother of Henry Portsmouth, operated a business in Basingstoke as advertised in an 1880 directory: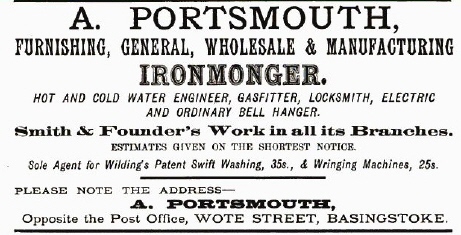 Notice in Kelly's Directory of Hampshire, 1880 (from Google Books online).
Harriet, a sister of Henry and Albert Portsmouth, lived unmarried with her siblings in Basingstoke. In February 1914, when she was aged 83, her name changed to Harriet Whistler when she married her first cousin Charles William Whistler who, born in Pennsylvania, was a veteran of the American Civil War (more about Charles William Whistler is in the chapter Pennsylvania – Hands Across the Sea). The wedding took place at St Margaret's Church, Westminster.
Harriet Whistler, aged 97, died on 3 November 1928 (12). She left an endowment of £600 for a Basingstoke charity. Interest on the money paid the rent for the residents of four almshouses on Flaxfield Road (13). Acton's Almshouses, at the top of Flaxfield Road, were bequeathed to the poor by James Acton in 1690. The four homes were demolished in 1955 (14).
In census returns for 1891, 1901, and 1911 the address of Harriet Portsmouth (later Whistler) was 1 New Street, Basingstoke. The house, renamed to Nos 12 and 14 Cross Street (No 14 faces New Street), is shown in the photographs below.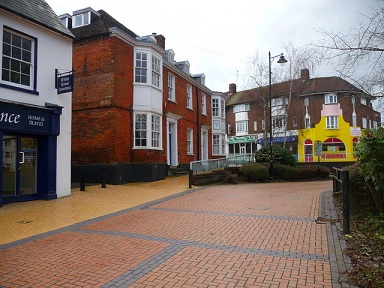 Basingstoke: the top of Cross Street, looking towards New Street.
The evidence from census returns is that the house on the left that extends to
New Street in the distance was the home of Harriet Portsmouth-Whistler.
Photograph © Chris Talbot taken May 2010, Geograph Britain

.
A description of the house

is at the British Listed Buildings website.
---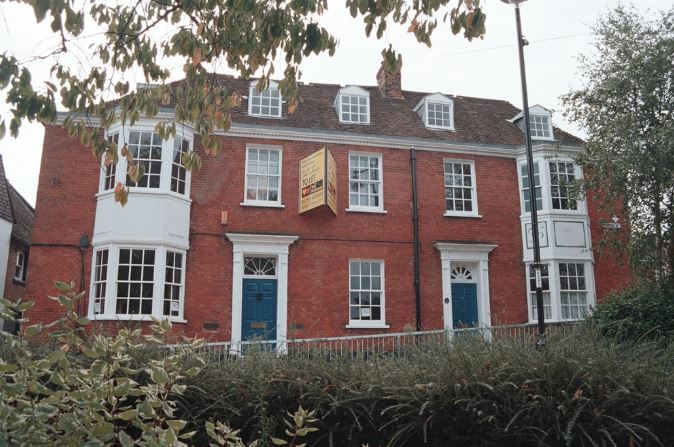 Photograph © Richard Swynford-Lain taken 14 September 2007,
Historic England Archive

.
---
Appendix: Family History in Census Returns
The Butler Family
The Downs Family
The Portsmouth Family
William Whistler and the Sherborn Family
Notes on Sources
HRO
Hampshire Record Office, Winchester – now named:
Hampshire Archives and Local Studies.

An informative record of the windmill was found in documents in the HRO:

HRO reference 10M57/Z49, 'Detailed estimate of the expenses in purchasing land and buildings at Norn Hill'. This document gives a history of the windmill prepared by William Whistler to support an arbitration award from the railway. John Asteraki of the Odiham Society was most generous in providing a transcription of this document along with other details about the fate of the windmill.
HRO reference Q23/4/1, dated 4 April 1838, a request from the London and Southampton Railway for a jury to assess financial compensation for the lands in Basingstoke belonging to William Whistler.
HRO reference 10M57/TR8, item 17, dated 5 April 1838, valuation of the land and buildings owned by William Whistler prepared by John Money, a surveyor of Donnington, Newbury.
HRO reference 10M57/TR8, item 22, dated 12 April 1838, an estimate of the value of Whistler's windmill and bakery business prepared by Edward Vines, a mealman of Sherfield, Hampshire.

Sue Tapliss, Curator of the Willis Museum, Basingstoke, very kindly provided information in email correspondence (July 2005). A Brief Illustrated Gazetteer of Hampshire's Windpowered Grain Mills, c1750 to the Present, produced by Hampshire County Council Museums and Archives, 2003, gives a description of the Basingstoke Windmill:

Brick tower mill, patent sails, fantail winded, 3 pair of stones. Built 1821–22. Cottage, bake-house and stables included on the one and a quarter acre site by 1828. Demolished in 1849 for the GWR railway line from Reading.

A lively and well-written railway history is Christopher J. Tolley, A History of the Railways around Basingstoke (website: Basingstoke & District Railway Society ).
Notes
(1) The marriage register for St Michael's Church, Basingstoke, records: 'William Whistler a bachelor & Martha Cleeve a spinster both of this parish were married in this church by publication of banns this 21st day of October 1790 by me J. Williamson, curate'. The Winchester will of George Cleeve, yeoman of Basingstoke, dated 12 Jan 1811 and proved on 9 Jul 1814, mentioned his daughter Martha, 'the wife of William Whistler of Basingstoke' (will viewed on microfiche at the HRO).
(2) The will of William Whistler dated 14 August 1846 and proved in the Archdeaconry Court of Winchester on 30 December 1846 (HRO).
(3) A list of monumental inscriptions at Basingstoke printed in Hampshire Notes and Queries, reprinted from the Winchester Observer & County News, Volume 2, 1884 (accessed at Google Books online).
(4) The parish register for St Michael's Church, Basingstoke, records the baptisms of children of William and Martha Whistler as William (19 August 1791), Martha (26 July 1798), Mary (9 July 1800), George (13 August 1802) and Sarah (3 May 1804).
(5) Information kindly provided by the Odiham Society

.
(6) On 17 July 1846 The London Gazette published a notice that the copartnership between William Whistler of Sevington Farm, Tichborne, Hampshire, and George Whistler of Down Grainge Farm, Basingstoke, Hampshire, was dissolved on 11 October 1845 (The London Gazette online historical archive). In the 1841 census William's brother George Whistler was living at Down Grange Farm, Basingstoke.
(7) Hampshire Parish Registers, FamilySearch database, and probate administration granted in 1853 to Mary's husband William Whistler, gentleman of Winchester (Hampshire Wills, Ancestry database).
(8) In the 1851 census the address of William Whistler was Corn Market, St Thomas Parish, Winchester. On 7 December 1854 the marriage register of St Maurice, Winchester, has the entry William Whistler, age 60, widower, father: William Whistler, farmer, and Maria Miles, age 55, spinster, father: Thomas Miles, carpenter; residence of both bride and groom: High Street East; witnesses: James Thorn, Ann Thorn and Agnes Thorn (photocopy from the marriage register ordered from the HRO).
(9) The will of William Whistler of Winchester, gentleman, dated 23 March 1855, was proved in the Archdeaconry Court of Winchester on 5 June 1856 (HRO). The date of William's death was noted on the will.
(10) List of previous mayors of Basingstoke at the website of the Basingstoke & Deane Borough Council. Henry, the son of Edmund and Mary Portsmouth, was baptised at Eastrop, Hampshire, on 8 October 1822 (FamilySearch Historical Records).
(11) Kelly's Directory of Hampshire, 1880 (accessed at Google Books online).
(12) FreeBMD website. A probate record (gov.uk

) gave the information: 'Harriet Whistler of 1 New Street, Basingstoke, Hampshire, wife of Charles William Whistler, died 3 November 1928. Probate London 10 December to John Portsmouth, engineer and Henry Portsmouth, farmer'.
(13) Harriet Whistler's Charity, Basingstoke, 1934–54 (HRO reference: 35M84/73).
(14) Robert Brown, 'Building homes for the needy', The Basingstoke Gazette (online edition), 2 July 2008.
Copyright © WhistlerHistory
All Rights Reserved.
Disclaimer
Revision date: 2023