The Corker Family – Charleston, South Carolina
An inscription on a gravestone in a churchyard of Charleston, South Carolina gives a record of the Corker family. The memorial for Mary who died 13 October 1749, in her 75th year, stated that she was the widow of Richard Owen and the daughter of Thomas Corker of Shavington cum Gresty, Cheshire in England.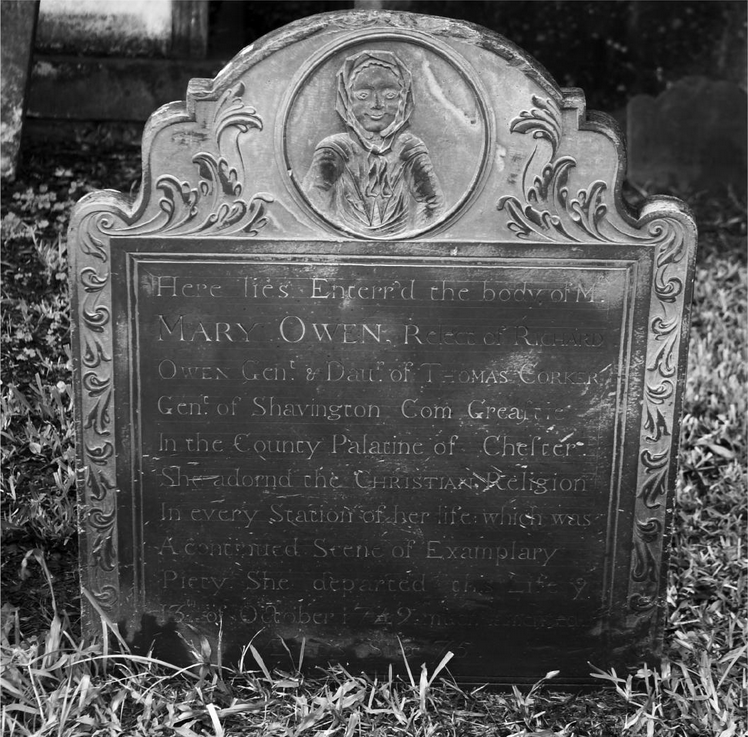 An interesting feature of the gravestone is the carved portrait of Mary Owen showing her wearing a head scarf tied beneath the chin. A transcription of the memorial provided by David R. Mould and Missy Loewe (Historic Gravestone Art of Charleston, South Carolina, 1695–1802, 2006, pp. 101–102) to accompany their photograph above is:
Here lies Enterr'd the body of Mrs.
Mary Owen, Relect of Richard
Owen, Gent. & Daur. of Thomas Corker
Gent. of Shavington Com Greastie
In the County Palatine of Chester
She adornd the Christian Religion
In every Station of her life: which was
A continued Scene of Examplary
Piety. She departed this life ye
13th of October 1749, much lamented.
AEtatis Suae 75
As a note, the word relect refers to relict, an old term for widow. The suffix gent. added after a name was an abbreviation for gentleman – a title for a person of prominent status in the community.
The English home of the Corker family, the village of Shavington with the hamlet of Gresty, was near the parish of Wybunbury and the town of Nantwich in the English county of Cheshire. Mary Corker was baptised at St Chad's Church, Wybunbury on 31 May 1675. At the same church, Mary Corker and Richard Owen were married on 1 September 1703.
Richard and Mary Owen, settled at their new home in Charleston, South Carolina, may have sent letters back to their family in England informing them of the opportunities as British colonists. A Thomas Corker, possibly the nephew of Mary Owen, also sailed across the Atlantic Ocean (the will of Thomas Corker mentioned "Mrs Mary Owen left me heir unto all she had"). Thomas Corker, a prosperous merchant of pre-revolutionary South Carolina, had a retail store in Charleston stocked with a
"variety of silks, patterned linens, India calicoes, woolens, and Hollands; manufactures such as playing cards, buttons, bundles of violin strings, and oil cloth umbrellas; an assortment of patent medicines, such as Greenough's tincture for teeth; as well as more mundane items like pewter kitchen ware and workmen's tools" (Emma Hart, Building Charleston: Town and Society in the Eighteenth-Century British Atlantic World, 2009, p. 41).
Thomas Corker of Charleston died 28 January 1771 in his 75th year ("Extracts from the Journal of Mrs. Ann Manigault 1754–1781", The South Carolina Historical and Genealogical Magazine, Vol. 21, 1920, p. 20, Internet Archive

). Soon after, John Corker of Uttoxeter, Staffordshire received a letter, posted from the British American colony of South Carolina, informing him that his brother Thomas had passed away (Emma Hart, Ibid., p. 227, footnote 56).
John Corker of Uttoxeter made his living as a cork-cutter; continued here:
The Corker Cork-Cutters, and
The Corker Family: Clock & Watch Makers of Staffordshire and London.
---
---
In the eighteenth century, other people with the Corker name were also settled in South Carolina. However, the connection to the Charleston merchant Thomas Corker is not known.
In July 1744, a marriage licence was issued in South Carolina for Richard Corker and Elizabeth Goodale. In 1756 Richard Corker was given a land grant of 250 acres at Salkehatchie River, Prince William parish, Granville County (South Carolina Department of Archives & History

, online records).
In the American War of Independence, a Thomas Corker served in the 2nd South Carolina Regiment during 1777 (Patrick O'Kelley, Unwaried Patience and Fortitude: Francis Marion's Orderly Book, 2006, p. 661).
---
Copyright © WhistlerHistory, April 2016.