The Corker Family in Ireland
In England, James Corker of Huntwick Grange near Nostell Priory in West Yorkshire, buried at St Michael and Our Lady's Church, Wragby, on 19 July 1573, had a grandson named Robert Corker who made his home in Manchester. Robert Corker married his first wife Elizabeth Collumbell at Manchester Cathedral on 13 November 1623. Anne Jackson became his second wife at a wedding ceremony on 11 June 1632 at Prestbury, a village near Macclesfield, Cheshire. Two sons of Robert and Anne Corker – Edward Corker, born 1636, and Thomas Corker, born 1638 – settled in Dublin, Ireland (1).
Edward Corker and Thomas Corker were admitted freemen of Dublin, in 1661 and 1663 respectively, as members of the merchants' guild (2).
Edward Corker (1636–1702), Dublin Merchant, Irish MP
Edward Corker founded a sugar refinery in partnership with John Waller. The business was described in State Papers for Ireland dated 3 January 1668: (3)
Corker and Waller set forth by their petition that they have set up the manufacture of refining sugar in Ireland, and are the first persons to bring in that sort of manufacture to that kingdom. In their first attempt to do the same they lost two ships upon that coast laden with 'utensells' prepared for the work, worth £1,200. Besides that they have been at great charge in bringing the same to such perfection that they are able to refine more sugars yearly than in that our kingdom is expended and to sell them at easier rates than the like commodity can be imported from abroad.
In 1668 Edward Corker financed the rebuilding of the church at Carrickbrennan, the early name of Monkstown, near Dublin. An account states that the church had a weathercock with the initials E.C. [Edward Corker] and the date 1668 (4).
Edward Corker was Registrar in Court of Chancery in Dublin 16 June 1669. In the Irish Parliament he served as MP for Ratoath 1692–93, 1695–99 (5).
He married Hester (Esther), the daughter of Sir Daniel Bellingham, the Lord Mayor of Dublin 1665–66. Their son named Bellingham Corker was baptised at St Michan's Church, Dublin, on 29 May 1683 (6).
Edward Corker died 31 March 1702. He was buried at St Werburgh's Church, Dublin, where a monument to his memory was installed (7). The will of his widow Esther Corker, written in 1719, was probated on 30 June 1720.
Thomas Corker (1638–1716), Dublin Merchant
Edward's brother, the Dublin merchant Thomas Corker, became the fiancé of Abigail, of the Chambre family of Stormanstown, in the parish of Clonkeen, County Louth. A marriage licence for the couple was issued in 1662. Thomas and Abigail Corker had four sons: Edward, born about 1666, Chambre, born 1677, Thomas, and William.
As a note on the political events of the time, in 1688 support was waning for the Catholic King James of the Three Kingdoms of England, Ireland and Scotland. In November 1688 James's nephew and son-in-law, the Dutch Protestant Prince William of Orange, landed in England with a considerable army. James fled to France; and William and his wife Mary became co-regents as King William and Queen Mary. In March 1689 James, popular among the Irish Catholics, landed in Ireland where he raised an army with the intent of regaining his crowns from William and Mary.
The Corker family belonged to the Anglo-Irish Protestant community who were on the Williamite side. On Sunday 5 May 1689 an arsonist set fire to Thomas Corker's house at Donaghmore near the town of Navan, County Meath. An account described that 'all his stock of sheep, black cattle, and horses were taken, and soldiers from Navan fetched away all his corn and hay'. Thomas Corker, given warning by his Irish servants that the area was not safe, had departed for Dublin before the burning of his house (8). It seems likely (but not confirmed) that Thomas Corker of Donaghmore was the same Thomas Corker, Dublin merchant and brother of Edward Corker, MP.
After his death on 19 March 1716, Thomas Corker was buried next to his brother-in-law Thomas Chambre at Clonkeen Church, Churchtown, County Louth. A local history records that his son Edward Corker provided a church memorial designed with a Latin inscription and family coat-of-arms (9).
Edward Corker (ca. 1666–1734), Irish MP, of Ballymaloe House, County Cork
Edward Corker, the son of Thomas Corker and his wife Abigail (née Chambre), had an active military career. He gained a commission, dated 1 May 1689, as ensign in the Earl of Meath's Regiment of Foot with which he served, as part of the Williamite army, at the battle of the Boyne that took place on 1 July 1690 by the River Boyne near the town of Drogheda, located north-east of Navan (10). The battle was a victory for King William and a defeat for the ambitions of James who was forced into permanent exile in France. The outcome affirmed British and Protestant rule in Ireland for the next two centuries.
The focus of war now shifted to other campaigns. On 20 August 1694 Edward Corker took the position of captain in Colonel Frederick Hamilton's Regiment of Foot that saw action at the 1695 siege of Namur (in present-day Belgium) (11). This ended with a military success for King William and his European allies in their war against France.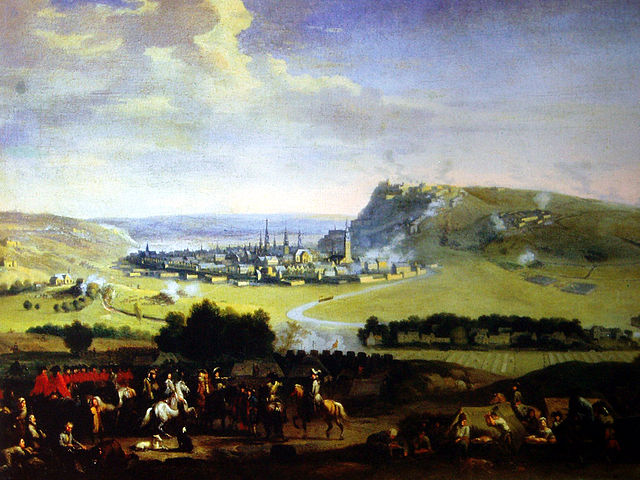 The Siege of Namur, 1695, by Jan van Huchtenburg.
In the foreground King William III, dressed in grey,
confers with the Elector of Bavaria (from Wikipedia

).
Edward Corker sat in the Irish Parliament from 1713, until his death in January 1734, as MP for Rathcormack (County Cork) 1713–14, Midleton (County Cork) 1715–27, and Clonmines (County Wexford) 1727–34 (12). He served as High Sheriff of County Cork in 1719.
He married Margaret, the daughter of Peter Wallis of Shanagarry, County Cork. Possibly it is this alliance that founded the 'Corkers of Cork'. The home of Edward and Margaret Corker became Ballymaloe House, Shanagarry, County Cork (13).
Margaret Corker, who died July 1721, was commemorated with a monument in St Colman's Cathedral, Cloyne, County Cork (14). The parish register of St Werburgh's Church, Dublin records that Edward Corker, aged 67, of Eustace Street, was buried 29 January 1733/4 (15). There is no record of surviving children from their marriage. The Corker family in Cork continued with Edward's nephews, the sons of Chambre Corker.
Edward Corker was remembered with some esteem – when his sister Margaret Corker died in 1764 a death notice printed in Faulkner's Dublin Journal stated that she was the 'sister to the late worthy and renowned Patriot, Colonel Edward Corker of Ballymaloe, County Cork' (16).
The will of Edward Corker named his brother Chambre Corker of Falmouth and his 'cousin' Robert Corker also of Falmouth in the English county of Cornwall (17). Robert Corker (1668–1731) was five times Mayor of Falmouth in 1697, 1705, 1709, 1717 and 1724, and Chambre Corker (1677–1747) was twice Mayor of Falmouth in 1716 and 1723 (18).
The family relationship may be that Edward Corker was the first cousin of Robert Corker's father, another Thomas Corker who, like Edward and Chambre Corker, was a grandson of Robert Corker of Manchester. However, the parents of Thomas Corker have not been identified.
The Cornish Corkers
Thomas Corker (birth date and parents not traced), from Connellstown, County Meath in Ireland, travelled at sea as a ship's doctor. In early 1667 his ship sailed unexpectedly into Falmouth harbour on the south coast of Cornwall. Possibly, on a return voyage from the West Indies, the ship was forced into the port by a winter storm. Falmouth appealed as a new home – on 25 April 1667 Thomas Corker married Jane, the daughter of the Falmouth merchant John Newman (19).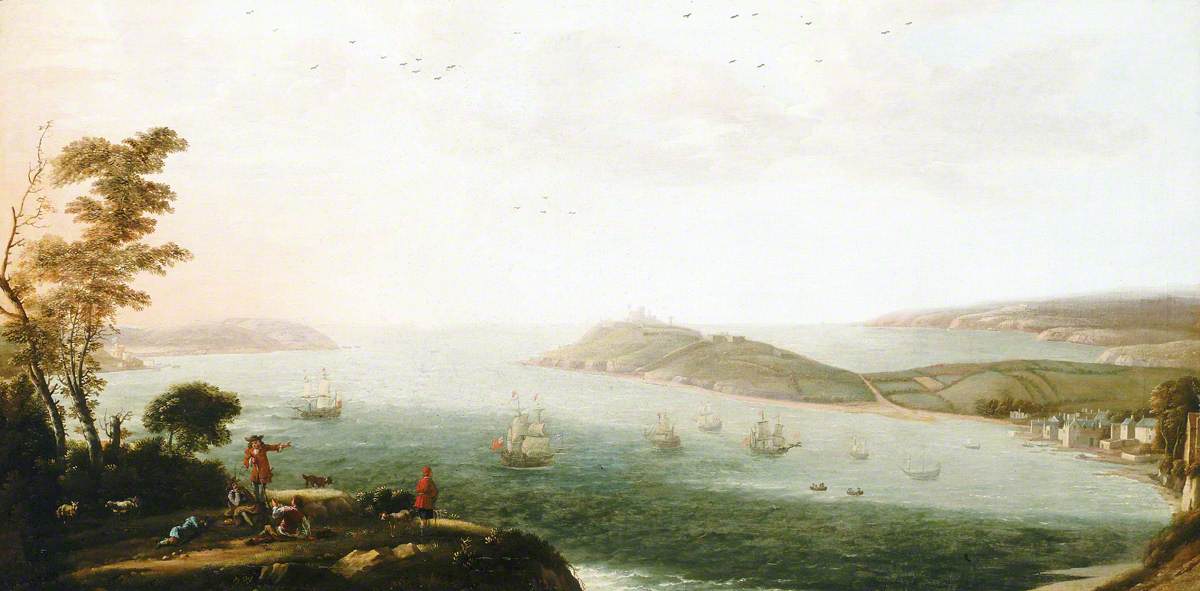 A View of Falmouth Harbour, about 1678 (the town is shown on the right).
by the Dutch born painter Hendrick Danckerts (1625–1680)
collection of the National Maritime Museum, Greenwich, London
(from the Art UK

website).
The children of Thomas and Jane Corker baptised at the church of King Charles the Martyr, Falmouth were Robert (29 January 1668), Thomas (4 February 1670), Jane (8 April 1672), and Anne (12 October 1674) (20).
The upbringing of the children, who were young when their father died, was supervised by their uncle John Newman, junior. The Corker boys were expected to earn their living and make their own success in life. At the age of fourteen Thomas Corker was sent to the Guinea Coast of western Africa as an apprentice to the Royal African Company. His older brother Robert Corker trained as an apprentice to Bryan Rogers, the leading Falmouth merchant (21).
In 1708 Robert Corker donated money for improvements to the Falmouth church of King Charles the Martyr where he had been baptised 40 years earlier (22).
It has already been mentioned that Robert Corker served five terms as Mayor of Falmouth. He also held other offices. He was Receiver-General of the Duchy of Cornwall from 1708 to 1712 and again from 1720 to his death in 1731; and MP for Bossiney in north Cornwall from 1722 to 1731 (23).
His wedding to his second wife took place on 28 November 1726 at the London church of St Benet Paul's Wharf. The marriage register recorded: 'Robert Corker of Trevorder, Cornwall, widower, and Mary Rouckcleiffe of Chulmley [Chulmleigh], Devon, spinster' (24). Robert Corker, who had no surviving children, was buried 5 March 1731 in London at St Margaret's Church, the parish church of the House of Commons, located by Westminster Abbey (25).
The Royal African Company promoted Thomas Corker, the younger brother of Robert, to Agent at the Company fort of York Island in the estuary of the river Sherbro in Sierra Leone. He married an African princess. Their sons were in a privileged position: through their mother they inherited a claim to the chiefdom and from their father they had an introduction to the English mercantile world (26).
In 1700 Thomas Corker made a business trip to Falmouth where he died on the 10th of September, only 30 years old. The Falmouth church of King Charles the Martyr has a 'Baroque marble and freestone monument' with an inscription that gives a memorial to Thomas Corker (27).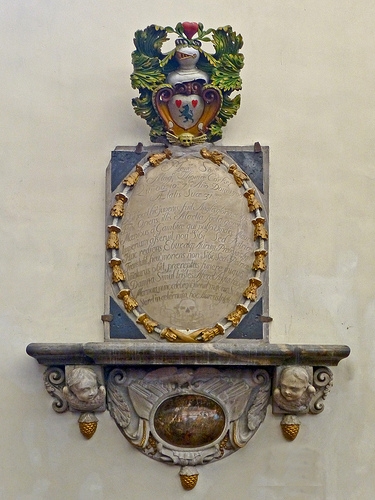 Memorial to Thomas Corker, buried 13 September 1700;
Church of King Charles the Martyr, Falmouth
Flickr online photo

by Tim Green, taken on 9 August 2013.
An interesting feature of the monument is the display of the Corker coat-of-arms at the top. The design matches the coat-of-arms granted to the Dublin Corkers to provide a confirmation of the family connection.
Thomas Corker's Euro-African sons established a family dynasty in Sierra Leone. The spelling of the family surname became Caulker (possibly the result of a clerical mistake that became permanent). A family history titled The Caulkers of Sierra Leone: The Story of a Ruling Family and Their Times, written by Imodale Caulker-Burnett, was published in 2010.
The Corker Coat-of-Arms
On 14 September 1666 Edward Corker, the Dublin merchant, was granted a coat-of-arms by Richard St George, the Ulster King-of-Arms of Ireland. In 1696 a renewed grant for a coat-of-arms was given to Edward Corker's nephew and namesake Edward Corker of Dublin (28).
In designing a coat-of-arms to reflect pride in his family heritage the senior Edward Corker may have found it appealing to introduce Corcor as an alternative spelling for the family surname. For baptisms at St Michan's Church, Dublin in 1683 and 1685 the father's name was entered in the parish register as 'Captain Edward Corker, alias Corcor'.
In Latin cor means heart; so corcor is translated as double heart. The Corker coat-of-arms displays two red hearts side-by-side across the top of the shield above a 'lion rampant azure [blue]'.


The Corker Arms from
Burke's Genealogical and Heraldic
History of the Landed Gentry,
1937, Irish Supplement, page 2561.
The Latin motto below the shield is: Sacrificium Deo Cor Contritum.
An English translation is: My contrite heart is a sacrifice to God.
The Bible refers to a contrite heart. Psalm 51:17 says:
My sacrifice, O God, is a broken spirit; a broken
and contrite heart you, God, will not despise.
---
Controversy
The monument dedicated to Thomas Corker in the church of King Charles the Martyr, Falmouth, was the subject of an article in the Daily Mail online

, published in October 2022, with the headline:
Church's memorial to 17th Century slave trader should be removed because honouring him 'conflicts with Christian values of inclusion and respect', campaigners say.
In the comments section to the article, the discussion supported that the monument should be preserved as part of Falmouth's history and, to quote from one reply, 'look, reflect, and learn from the past'.
---
General Reference
A Corker family history in Burke's Genealogical and Heraldic History of the Landed Gentry (1937, Irish Supplement) records the antecedents of Major-General Thomas Martin Corker (1856–1937).
---
Notes
(1) A source of Corker family history is Burke's Landed Gentry (1937, Irish Supplement).
Baptisms at Manchester Cathedral, Manchester, Lancashire (FamilySearch Historical Records online, and Ancestry online database with parish register images), for children of Robert Corcker (note the spelling variation for Corker) included Edward (25 September 1636) and Thomas (2 December 1638).
(2) Freemen of Dublin online database

, Dublin City Archives.
In 1651 the merchant John Corker was admitted a freeman of Dublin. From the Corker family history in Burke's Landed Gentry (1937, Irish Supplement) it appears that John Corker was the uncle of the Dublin merchants Edward and Thomas Corker.
(3) Calendar of the State Papers relating to Ireland, 1666–1669, edited by Robert Pentland Mahaffy, London, 1908, p. 561 (available at State Papers Online 1509–1714

).
Possibly the sugar was shipped to Dublin from Barbados. The development of sugar production in Barbados in the seventeenth century is described in Dr Karl Watson, Slavery and Economy in Barbados, BBC History online

.
(4) Francis Elrington Ball, A history of the County Dublin; the people, parishes and antiquities from the earliest times to the close of the eighteenth century, Dublin, 1902, p. 42 (Internet Archive

). In the 1780s plans were started for the building of a new, larger Monkstown Church on a different site; the church built in 1668 by Edward Corker was left to become a ruin.
(5) Career details for Edward Corker are given in: Edith Mary Johnston-Liik, History of the Irish parliament, 1692–1800, 2002, Vol. 3, pp. 508–9. This reference gives a military career for Edward Corker that should be attributed to his nephew Edward Corker.
(6) Pages of the transcribed parish register can be viewed at the website: Irish Genealogy

.
A note about the Bellingham family is in James B. Leslie, History of Kilsaran union of parishes in the County of Louth, 1908, p. 324 (Internet Archive

). This source includes a transcribed extract from the will of Sir Daniel Bellingham, dated 1672, that mentions his daughter Hester, the wife of Edward Corker.
(7) Benjamin William Adams, History and Description of Santry and Cloghran Parishes, County Dublin, 1883, p. 35 (Google eBook online).
(8) J. H. Moore, 'Notes on the History of Navan', The Journal of the Royal Society of Antiquaries of Ireland, Fifth Series, Vol. 4, 1894, p. 51.
(9) A record of the memorial was given by James B. Leslie, History of Kilsaran, op. cit., p. 222. This source stated that Thomas Chambre resigned as rector of Kilsaran in 1678; died in 1694 and was buried in Clonkeen Church where he was commemorated with a mural tablet. An English translation of the Latin inscription on the memorial is:
Here lie John Chambre of Stormanstown, Esquire, who died 15th August, 1680, aged 55, and his nephew and heir Thomas Chambre, D.D., by favour of the illustrious family of the Earls of Meath (to which also he was paternally related), Incumbent of the Parishes of St Catherine and St James, Dublin, who died 3rd of May, 1694, aged 53; and Thomas Corker, who married Abigail Chambre, eldest sister of said Thomas [Chambre], and died 19 March, 1716, aged 78. Erected by Edward Corker of Ballymaloe, Esq.
Unfortunately, a picture of the memorial with the coat of arms has not been traced.

(10) Charles Dalton, editor, English Army Lists and Commission Registers, Vol. 3, 1689–1694, p. 58 (Internet Archive

). The Earl of Meath's Regiment of Foot was previously commanded by Sir John Edgeworth, and later 18th Royal Irish. The Corker family history in Burke's Landed Gentry (1937, Irish Supplement) states that Edward Corker was present at the Boyne.
(11) Charles Dalton, editor, English Army Lists and Commission Registers, Vol. 4, 1694–1702, p. 31 (Internet Archive

). Colonel Frederick Hamilton's Regiment is mentioned in the report: An exact account of the siege of Namur; with a perfect diary of the Campagne in Flanders, from the King's departure ... May the 12th to his return to London, Octob. 11th, 1695, p. 37 (Google eBook online).
(12) Edith Mary Johnston-Liik, History of the Irish parliament, op. cit..
(13) The Corker connection to Ballymaloe is mentioned in Charles Smith, The ancient and present state of the county and city of Cork, 1815, pp. 131–132 (Google eBook online).
An interesting house history is by Annemarie Foley, Ballymaloe House

, 2012.
(14) C. M. Tenison, 'Cork M.P.'s, 1559–1800', Journal of the Cork Historical and Archaeological Society, 1895, p. 234 (Google eBook online); Richard Caulfield, Annals of the Cathedral of St Coleman, Cloyne, Cork, 1882 (Internet Archive

).
(15) Online images of the parish register can be viewed at the website: Irish Genealogy

.
(16) Margaret died unmarried. The notice of her death, published on 1 Dec 1764, was located in the Irish Newspaper Transcript Archive, Ffolliott Collection, FindMyPast database.
(17) The will of Colonel Edward Corker of Ballymaloe [Shanagarry, County Cork] dated 14 Oct 1725 was probated 12 Feb 1733/4. A summary of names mentioned in the will is in the Irish Will Abstracts online database of the Society of Genealogists, London.
(18) A list of Mayors of Falmouth is in Susan E. Gay, Old Falmouth, 1903, p. 239 (Internet Archive

).
(19) An account of Thomas Corker and his family is given in Nigel Tattersfield, The Forgotten Trade: Comprising the Log of the Daniel and Henry of 1700 and Accounts of the Slave Trade From the Minor Ports of England 1698–1725, London, 1991, pp. 309–19.
A reference to the Corker family in County Meath, Ireland, is in the online catalogue of the National Archives, London: a document held by the East Sussex Record Office (reference: CHR/12/2) gives an agreement dated 17 October 1717 between Daniel Corker of Dublin and Thomas Corker, merchant, about the town and lands of 'Cornellstown in the barony of Moyfendra' [Connellstown Townland

, in the Civil Parish of Rathcore, in the Barony of Lower Moyfenrath, in the County of Meath].
(20) In the Falmouth parish register the family surname was spelled as Calker or Calkar and there appear to be some mistakes in recording names. From online databases (FamilySearch Historical Records; and FreeREG) baptisms at King Charles the Martyr, Falmouth, for the children of Thomas and Jane Corker were transcribed as:
29 Jan 1667/8
Robert
son of Thomas Calker & Jane
Register note: Calker – probably the same as Corker.
04 Feb 1669/70
Thomas
son of Robert Calkar & Jane
08 Apr 1672
Jane
daughter of Robert Calker & Jane
12 Oct 1674
Anne
daughter of Robert Calker & Anne

It seems likely that the father's name of Robert was referring to Thomas and the mother's name of Anne was referring to Jane. Possibly the clerk who maintained the parish registers was careless in his work.

(21) Nigel Tattersfield, The Forgotten Trade, op. cit..

(22) Susan E. Gay, Old Falmouth, op. cit., p. 229.

(23) Robert Corker

, The History of Parliament: the House of Commons 1715–1754.
(24) London Parish Records online Ancestry database, includes parish register images from the London Metropolitan Archives. A place called Trevorder is in the parish of St Breock, Cornwall.
(25) Westminster Burials online FindMyPast database, includes parish register images from the City of Westminster Archives Centre. The will of Robert Corker was probated in London (the Prerogative Court of Canterbury) on 5 May 1731.
(26) Nigel Tattersfield, The Forgotten Trade, op. cit..
(27) For a description of the church of King Charles the Martyr, Falmouth see the Historic England

website. The burial register of King Charles the Martyr, Falmouth, recorded the burial of Mr Thomas Corker on 13 September 1700 (FreeREG data online).
(28) R. Day, 'Heraldry: The Corker Arms', Journal of the Cork Historical and Archaeological Society, 1894, pp. 153–154.
---
Copyright © WhistlerHistory 2022.