Whistler Family Miscellany


Two Victorian Houses of Bygone London
---
Leigham House, Streatham

House History in Census Returns
In 1836 the entrepreneur Beriah Drew purchased Mount Nod Farm, a large farming estate in Streatham, for its potential for property development. He laid out Leigham Court Road and, a few years later, built Leigham Lodge, the first house on Leigham Court Road. After the arrival of the railway in 1856 Leigham Court Road was transformed with the construction of grand new homes designed to attract prosperous London businessmen.
Leigham House was situated on the site of the old Mount Nod farm house at the junction of Leigham Avenue and Leigham Court Road.
Built in about 1842 Leigham House was first occupied by John William Liddiard, a retired 'wholesale linen draper' and his wife Maria (1). Liddiard, born 22 January 1778 and baptised one month later at St Faith under St Paul in the City of London, became the head of a London firm based at 61 Friday Street in the Bread Street ward (2). The Times, dated 31 March 1858, printed the death notice: 'On the 29th, at Leigham House, Streatham, John William Liddiard, Esq., aged 80'.
Frederick Whistler and his family were the residents of Leigham House in both the 1861 and 1871 census returns. Frederick, born at Greenwich on 16 March 1793, was the grandson of Ralph Whistler who established a business in Greenwich as a linen draper and haberdasher, a seller of men's clothing and accessories, at a shop in Turnpin Lane near the Royal Naval Hospital (3). Frederick's father William Whistler, who took over the Turnpin Lane shop, relocated the business to Nelson Street (now Nelson Road), a smart Greenwich shopping street developed in the 1830s as part of a new town centre.
William's eldest son, also William Whistler, inherited the family business. Young Frederick trained for a career in London where he gained work experience at a textile warehouse located in Bow Churchyard by St Mary-le-Bow Church. With a wife and growing family to support, Frederick Whistler became a wine merchant operating from a warehouse in Sise Lane off Bucklersbury in the City of London. He maintained trading links with wine producers of Porto (or Oporto), Portugal. His death was reported in The Times, 26 December 1871:
On Dec. 22, 1871, at his residence, Leigham House, Streatham, Frederick Whistler, Esq., of 5 Queen-street-place, London, in his 79th year.
The new owner of Leigham House was Mr Lynch White, an iron merchant, whose previous home, also in Streatham, was Allington Lodge, Telford Rd (4). On 5 January 1892 The Times announced that 'Mr Lynch White, of Leigham House, Streatham' was sworn in as a Justice for the County of London Sessions.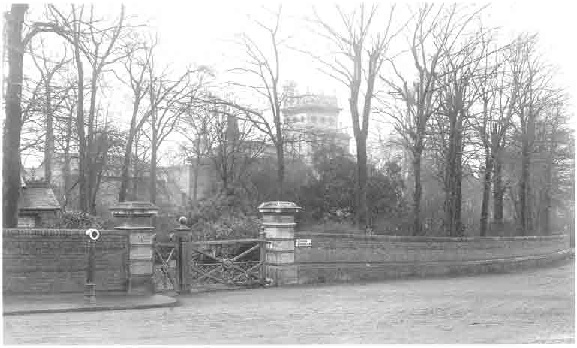 The above photo of Leigham House, taken about 1910, is from an old postcard.
The picture, kindly provided by Brian Bloice, Streatham Society (e-mail April 2011), is reproduced in
Patrick Loobey & John W Brown, Streatham Past & Present, 2001, p. 110.
After Lynch White died, aged 86 in 1907, Leigham House was sold at auction (5). A sale notice in The Times, 11 May 1907, gave a description of the estate:
Streatham Hill – For occupation with possession – Spacious and delightful Family Residence, known as Leigham House, Leigham Court-road, standing in beautifully planted pleasure grounds, gardens, and paddock, of about four and a-half acres, with stabling, complete out-offices, glasshouse, and lodge at entrance. Held under lease expiring in about eight years time at a ground-rent of £105 per annum.
An intimation of the splendid decorative style of the house was found in an auction sale notice printed in The Times, 24 April 1907:
Willis's Rooms, King Street, St James's Square, S.W.
On View – A Collection of Pictures and Drawings chiefly of the modern school, by direction of the Executors of the late Lynch White, Esq., J.P., of Leigham-house, Streatham, the property of a gentleman. . . . comprising examples by and attributed to: Guido Bach, J. Brett, J.B. Burgess R.A., T.S. Cooper R.A., G. Cattermole, W.P. Frith, F. Goodall R.A., Sir J. Gilbert, Holbein, Sir E. Landseer R.A., G. Morland, J. Peel, S. Prout, C. Stanfield R.A., A.Y. Wishaw, E. M. Wimperis, J. Webb, E.M. Ward R.A., &c., also a few engravings and prints.
The art collection at Leigham House may have included the painting 'The Alter Rock, Sark', a coastal scene of a rock outcrop known as Les Autelets, on Sark, a small island in the Channel Islands, completed in 1885 by the artist John Brett and purchased by Lynch White for £150 (6).
Another glimpse of the interior of Leigham House is offered by an auction notice in The Times, 16 April 1907:
Willis's Rooms, King Street, St James's Square, S.W.
On View – Decorative Porcelain, wood carvings, &c., by direction of the Executors of the late Lynch White, Esq., J.P., and removed from Leigham-house, Leigham-court-road, Streatham, and other properties, comprising a fine Davenport dinner service, an old Dresden Bacchanalian centre piece, a Spode green dragon dessert service, a collection of Chinese vases, beakers, dishes, and penholders in familles rose and verte, Rockingham, Chelsea, Swansea, Wedgwood, Staffordshire, Leeds, Worcester, and other china, a small collection of old German stained glass, a set of 12 small Limoges enamel portraits, two ormolu chandeliers with Dresden china flowers, several pairs of wall brackets, rare old coins, a Sevres vase, richly mounted with ormolu, miniatures, bronzes, metal work, &c.
Messrs. Robinson and Fisher are instructed to Sell, at their Rooms, to-morrow (Wednesday), April 17th, at 1 o'clock precisely, the above Property. May be viewed and catalogues had.
Epilogue
A reference to Leigham House appeared in The Times on 26 July 1921 – a list of recent wills noted Lieutenant-Colonel George Thomas Carpenter of Leigham House, Leigham Court Road.
Leigham House was demolished in the 1920s and the site was redeveloped as the Conifer Gardens housing estate (7).
---
Footnote ~ Leigham House, Leigham Court Road, should not be confused with another Streatham mansion named Leigham Court House. Leigham Court House, Streatham Hill, built by the banker John George Fuller in the early 1830s, later became the home of John Tredwell, a railway contractor. The house was demolished in 1908 to make way for the Leigham Court Estate (information from Lambeth Archives' collections online at the website: Lambeth Landmark

).
Acknowledgements ~ In 2011, Brian Bloice and John W Brown, of the Streatham Society Local History Group, were generous with providing information and comments.
Brian Bloice passed away in 2015. A tribute to his remarkable life was printed in the Streatham Society News, Autumn 2015.
Reference Book
Patrick Loobey and John W Brown, Streatham Past & Present, 2001.
General Sources ~ Local history is at the webpages:
Streatham Society

;
Ideal Homes

, a history of south-east London suburbs;
Streatham Darby and Joan Club History

.
Notices from The Times were obtained from The Times Digital Archive online. Items in The Gentleman's Magazine were located with Google Book Search.
Notes
(1) In parish rate books the first entry for Leigham House appears in 1842 when rates were paid by John William Liddiard (information kindly provided by John W Brown, email May 2011). In 1841 the Liddiard family address was 15 Hyde Park St, Paddington (Post Office London Directory, 1841, Part 2: Law, Court, & Parliamentary Directories, etc., accessed at Historical Directories online). The 1841 census returns covering Paddington are missing. Confirmation of the Paddington address is found in the record of the marriage on 11 June 1840 at St John the Evangelist, Paddington, of Ann Liddiard, daughter of John William Liddiard of 15 Hyde Park Street, and Whittington Henry Landon (marriage record viewed at the London Parish Records database at the Ancestry website). A reference that Ann was the daughter of John William Liddiard of Leigham House, Streatham, is given in Landon family history ('Landon', Visitation of England and Wales, edited by Frederick Arthur Crisp, Vol 19, 1917, p. 53, Internet Archive

).
A record of the Liddiards at Leigham House was found in death notices published in newspapers: on 16 July 1844 The Gentleman's Magazine recorded the death of Frances, daughter of J. W. Liddiard, Esq. Leigham House, Streatham; on 1 August 1850 The Times reported the death, on the 30th, of Maria, the wife of John William Liddiard, Esq., Leigham House, Streatham, aged 72.
(2) The baptism for Liddiard was found in FamilySearch Historical Records online. A report written in 1843 stated that Mr. J.W. Liddiard, living at Streatham, had been the head of a firm located at 61 Friday Street. His nephew William Liddiard, a partner, became the head of the firm after his uncle's retirement (Report of the Proceedings at the Bread Street Ward ... with a digest of the decisions, by W. T. (William Taylor) Haly, 1843, p. 60, accessed at Google Books online). John William Liddiard, wholesale linen draper and warehouseman of 61 Friday Street, registered as a Sun Fire Office insurance policyholder dated 15 May 1820 (The National Archives online database

).
(3) Ralph Whistler, linen draper, was buried on 9 March 1800 at St Alfege, Greenwich. Ralph Whistler, haberdasher, at Turnpin Lane is documented in records of Royal Greenwich Hospital (The National Archives reference ADM 75/40).
(4) Information from the 1871 census.
(5) The death was found at the FreeBMD website. From sales notices in The Times other London properties owned by Lynch White, also sold at auction in 1907, were located on Waterloo Road, Blackfriars Road and Brixton Hill.
(6) John Brett was an Associate Member of the Royal Academy (A.R.A.). The painting was sold at auction by Christie's in 2000 (sale information

at the Christie's website).
(7) Information kindly provided by John W Brown and Brian Bloice, of the Streatham Society Local History Group, April 2011; and Conservation area report

for Leigham Court Road: Leigham Court Road North Designation Report (2002), online access at the London Borough of Lambeth website.
Copyright © WhistlerHistory
All Rights Reserved.
Disclaimer
Revision date: 2016