93 Camden Street, Camden Town, London

The Warhurst Family of London in Census Returns
A row of houses on Camden Street between Pratt Street and St Martin's Close was formerly named St Stephen's Terrace. The name change to Camden Street was introduced in July 1863. Directory information before and after the name change was found in Simpsons Street Directory of St Pancras, 1862, and The St Pancras Directory, 1864:
| Name | 1862 directory | 1864 directory |
| --- | --- | --- |
| John Lovegrove | 4 St Stephen's Terrace | 91 Camden Street |
| Joseph Warhurst | 5 St Stephen's Terrace | 93 Camden Street |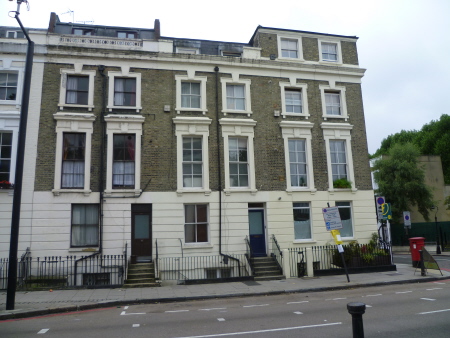 93 Camden Street is the corner house on the right – four stories high and a basement.
An entrance is by stairs leading to the basement.
The first door from the right is the entrance to 91 Camden Street.
The next photo of the side of 93 Camden Street facing St Martin's Close shows an entrance door to 93 Camden Street from St Martin's Close and the bricked-in windows. (A purpose of bricked-in windows was to avoid the window tax that was scrapped in 1851.)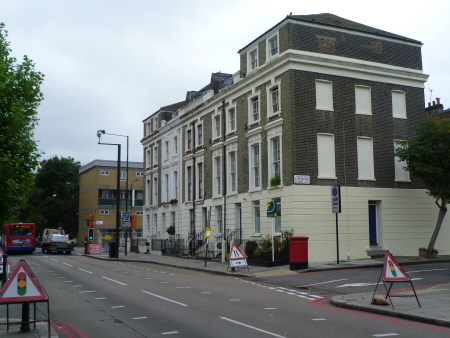 The next two photos are views of All Saints Church opposite 93 Camden Street.
On the right of the photo below is the side of 93 Camden Street facing St Martin's Close.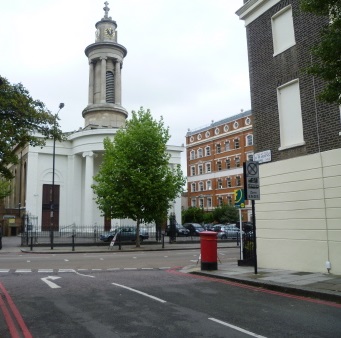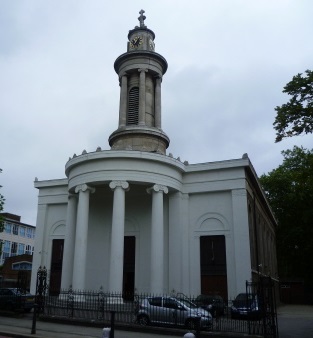 The church was built for the Church of England and in 1948 became Greek Orthodox to serve the large Greek speaking community of post World War II Camden Town.
---
Photographs taken 17 August 2010.
Notes: Street history was researched at the Camden Local Studies and Archives Centre, Holborn Library, Theobalds Road, London (visited in August 2010).
The List of Street and Places, London County Council, stated that in July 1863 addresses renamed to Camden Street included St Stephen's Terrace, Bellevue Cottages, Albert Cottages, Alfred Cottages, Camden Terrace, and others.
Copyright © WhistlerHistory
All Rights Reserved.
Disclaimer
Revision date: August 2010