In the eighteenth century the Corker family in England were in business as cork-cutters – a trade later made obsolete by the technology introduced by the industrial revolution of the nineteenth century. As a comment on the curiosity of the family name describing the occupation, in a volume of marriage licences compiled for the British Record Society, the editors remarked: 'Those who are amused by coincidences will note that . . . Nathaniel Corker of Nantwich (1736) was a cork-cutter' (1).

Read about the Cork-Cutter's Trade.
---
On 21 May 1667 Thomas Corker and Elizabeth Smith were married at St Chad's Church, Wybunbury, Cheshire. They made their home at Shavington cum Gresty, near Wybunbury and Nantwich.
Their daughter Mary Corker, baptised at Wybunbury in 1675, became the wife of Richard Owen at a marriage ceremony at St Chad's Church, Wybunbury on 1 September 1703. Richard and Mary Owen embarked on the sea voyage across the Atlantic Ocean and settled in the town of Charleston in the British American colony of South Carolina.
A gravestone in a churchyard at Charleston, South Carolina commemorates Mary Owen (née Corker) who died 13 October 1749, in her 75th year. Interesting features of the memorial are the inscription that gives her family background and the carved portrait showing her wearing a head scarf tied beneath the chin.
Gravestone of Mary Owen (née Corker) in the
Circular Congregational Churchyard, Charleston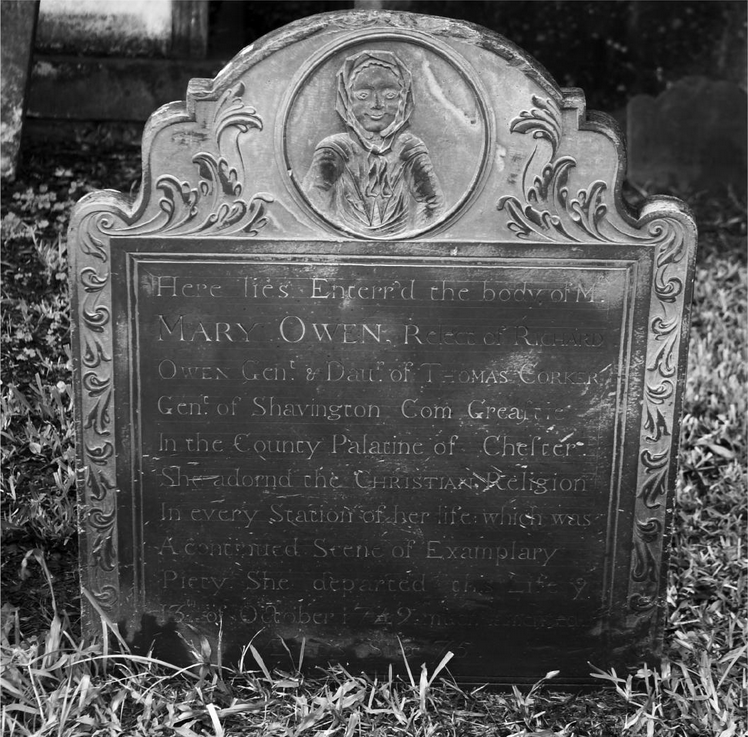 photograph from David R. Mould and Missy Loewe,
Historic Gravestone Art of Charleston, South Carolina, 2006, pp. 101–102.
The inscription on the gravestone, transcribed below, states that Mary was the widow of Richard Owen and the daughter of Thomas Corker of Shavington cum Gresty, Cheshire in England.

Here lies Enterr'd the body of Mrs.
Mary Owen, Relect of Richard
Owen, Gent. & Daur. of Thomas Corker
Gent. of Shavington Com Greastie
In the County Palatine of Chester
She adornd the Christian Religion
In every Station of her life: which was
A continued Scene of Examplary
Piety. She departed this life ye
13th of October 1749, much lamented.
AEtatis Suae 75

As a note, the word relect refers to relict, an old term for widow.
The suffix gent. added after a name was an abbreviation for gentleman – a title for a person of prominent status in the community.
Back in England, Mary Owen had a sister named Anne and a brother named Nathaniel Corker. Anne Corker married Thomas Withers and Nathaniel Corker married Hannah Bowers at a double wedding at the village of Wistaston, Cheshire on 5 January 1693.
Thomas and Anne Wither's son Lawrence Withers also settled in Charleston, South Carolina (2).
Nathaniel and Hannah Corker established their home in the market town of Nantwich, Cheshire. Their four sons – Thomas, Daniel, Nathaniel, and John – all qualified as cork-cutters.
Thomas Corker, born about 1695, married Elizabeth Holm at Wistaston, Cheshire, on 11 February 1728. The marriage register recorded that Thomas Corker's profession was a cork-cutter. One year later, in January 1729, Elizabeth died in childbirth. Elizabeth was buried at Nantwich on the same day that her daughter Mary was baptised. Mary died one month later. She was buried at St Mary's Church, Nantwich on 17 February 1729.
Thomas Corker decided to make a new life in America where he became a prosperous merchant of pre-revolutionary South Carolina. The recipient of a generous legacy from his Charleston aunt, Mary Owen (3), Thomas Corker built up a department store in Charleston stocked with:
a 'variety of silks, patterned linens, India calicoes, woolens, and Hollands; manufactures such as playing cards, buttons, bundles of violin strings, and oil cloth umbrellas; an assortment of patent medicines, such as Greenough's tincture for teeth; as well as more mundane items like pewter kitchen ware and workmen's tools' (4).
Thomas Corker of Charleston died 28 January 1771 in his 75th year (5). His will, catalogued in the National Archives, London, left money to establish a school in Nantwich under the auspices of the 'presbeterial or congregational' society. This suggests great affection for Nantwich as his ancestral home. The will expressed the desire to:
pay a master and mistress twenty pounds per annum for teaching twenty boys and ten girls to write and read English until the age of twelve or fourteen years fit to put to some laudable trade to get their living.
An account of the nonconformist churches in Nantwich does not mention the Corker school charity (6). The executor of Thomas Corker's will, the Charleston merchant Josiah Smith, may have had little interest in supporting a gift for a provincial town in England.
In his will Thomas Corker acknowledged his three brothers: Daniel, Nathaniel who was deceased when the will was written in May 1768, and John of 'Uttoxeter in Stafford Old England'.
Daniel Corker, a cork-cutter of Nantwich, was married at St Nicholas's Church, Liverpool, on 8 October 1734. By 1736 he was active as a cork-cutter in Nottingham. His brother Nathaniel Corker, also a Nantwich cork-cutter, married Elizabeth Craven, from Mansfield, Nottinghamshire, at St Mary's Church, Nottingham, on 22 November 1736.
The wedding of John Corker and Rosamond Poynton took place on 10 October 1725 at St Werburgh's Church, Hanbury, Staffordshire. On the marriage licence the home address of both the bride and groom was stated as Uttoxeter, Staffordshire.
John and Rosamond Corker made their family home in Uttoxeter. There is a record that the Corkers owned property in Uttoxeter Market Place (7).
The demand for the Corker cork-cutting expertise justified taking on apprentices. For example, on 14 April 1742 William Key started an apprenticeship as a cork-cutter with the master John Corker of Uttoxeter. In 1762, William Johnson became a cork-cutter apprentice in Uttoxeter under the supervision of John Corker's brother Nathaniel (8). A funeral service to memorialize Nathaniel Corker took place at St Mary's Church, Nantwich on 12 April 1766.
In the next generation, three sons of John Corker of Uttoxeter continued in the cork-cutting business: John, Thomas and Daniel.
The youngest son Daniel Corker raised his family in his birthplace of Uttoxeter. None of his sons were attracted to the art of cork-cutting. Three sons of Daniel Corker became skilled watchmakers (The Corker Family: Clock & Watch Makers of Staffordshire and London).
Daniel Corker's two older brothers, the cork-cutters John and Thomas, each had a son named Daniel Corker. The two cousins were the third and last generation of the Corker family (that has been traced) to operate a cork-cutting workshop.
In the late 1770s John Corker, in the cork-cutting profession, was living in east London in the district near the church of St George in the East. In July 1779 John Corker, a cork-cutter, resided at 'Bluegate Fields, Ratcliffe-highway' (9). A plausible connection is that this was the same John Corker baptised on 6 December 1734 in Uttoxeter, Staffordshire, the son of John Corker, a master cork-cutter, and his wife Rosamond.
Daniel Corker, the son of John and Sarah Corker of London, was born in 1778. On the day of his christening, at the church of St George in the East, the parish register recorded his father's occupation as a cork-cutter.
Daniel Corker became established as a cork-cutter in Worcester, the county town of Worcestershire. Pigot's commercial directory for 1828 had an entry for Daniel Corker, cork-cutter, 67 High Street, Worcester (10). In the 1851 census his shop was at 101 High Street, Worcester; the census return recorded that he was 72 years old, born in London. A death notice was printed in Berrow's Worcester Journal, 24 January 1863: (11)
[Worcester, 1863] Jan. 16, aged 85, Mr. Daniel Corker, formerly of
High Street, in this city, cork cutter.
Thomas Corker, the uncle of Daniel Corker of Worcester, was active in the cork-cutting business in Leicester, the county town of Leicestershire. Thomas Corker's son, another Daniel Corker, was also a Leicester cork-cutter. At the United Kingdom general election of 1826 both father and son were registered voters for Leicester. It should be noted that, before the 1832 Reform Act, the right to vote was restricted to men who were property owners. Poll books recorded those who cast a vote and who they voted for (the secret ballot was introduced later). For the 1826 election the Leicester poll book documented: (12)
Thomas Corker, Bond Street, cork-cutter, and
Daniel Corker, York Street, cork-cutter.
Father and son voted for different candidates.
In Pigot's 1828 commercial directory for Leicester the Corkers were the only cork-cutters to qualify for an entry. Daniel Corker's shop was still at York Street while his father Thomas Corker was now residing at Church Gate, Leicester. In the summer of 1828 Thomas Corker was aged 84.
Not long after the 1828 directory was compiled, Daniel Corker died at the young age of 37. He was buried at St George's Church, Leicester, on 5 October 1828. His father Thomas Corker, aged 87, was buried at St Margaret's Church, Leicester, on 18 January 1831.
To summarize, the appearance is that, for three generations, the Corker family of cork-cutters were enterprising businessmen who ran their trade from shops in various town centres in England including Nantwich, Uttoxeter, Nottingham, Leicester, Worcester, and London.
---
More Corker Family History
---
Notes
(1) Introduction of Nottinghamshire Marriage Licences, Vol. 1, British Record Society, 1930, accessed at Ancestry website.
(2) Lawrence Withers of Charleston, South Carolina was named in the will of his cousin Thomas Corker, probated in London in 1772. The will stated that Nathaniel Withers, the son of Lawrence and Elizabeth Withers, had been born in Charleston.
(3) Thomas Corker's will, probated in London in 1772, mentioned that 'Mrs Mary Owen left me heir unto all she had'.
(4) Emma Hart, Building Charleston: Town and Society in the Eighteenth-Century British Atlantic World, 2009, p. 41.
(5) 'Extracts from the Journal of Mrs. Ann Manigault 1754–1781', The South Carolina Historical and Genealogical Magazine, Vol. 21, 1920, p. 20, Internet Archive

.
(6) James Hall, A history of the town and parish of Nantwich, 1883, Internet Archive

.
(7) Francis Redfern, History and antiquities of the town and neighbourhood of Uttoxeter, 1886, p. 237, Internet Archive

.
(8) Register of Duties Paid for Apprentices' Indentures, 1710–1811, Ancestry website.
(9) The Proceedings of the Old Bailey

, trials held at London's central criminal court, Reference Number: t17790707-5.
(10) Pigot's Directory of Cheshire, Cumberland . . . , 1828, Google Book online.
(11) 19th Century British Library Newspapers online.
(12) The poll for the election of two representatives in Parliament for the Borough of Leicester, 1826, Google Book online.
---
Copyright © WhistlerHistory 2016–17.