In the eighteenth century the Corker family in England were in business as cork-cutters – a trade later made obsolete by the technology introduced by the industrial revolution of the nineteenth century. As a comment on the curiosity of the family name describing the occupation, in a volume of marriage licences compiled for the British Record Society, the editors remarked: 'Those who are amused by coincidences will note that . . . Nathaniel Corker of Nantwich (1736) was a cork-cutter' (1).

Read about the Cork-Cutter's Trade.
---
On 21 May 1667 Thomas Corker and Elizabeth Smith were married at St Chad's Church, Wybunbury, a village a short distance south east of the market town of Nantwich in the English county of Cheshire. They made their home at Shavington cum Gresty, near Wybunbury.
Their daughter Mary Corker, baptised at Wybunbury in 1675, became the wife of Richard Owen at a marriage ceremony at St Chad's Church, Wybunbury on 1 September 1703. Richard and Mary Owen embarked on the sea voyage across the Atlantic Ocean and settled in the town of Charleston in the British American colony of South Carolina.
A gravestone in a churchyard at Charleston, South Carolina commemorates Mary Owen (née Corker) who died 13 October 1749, in her 75th year. Interesting features of the memorial are the inscription that gives her family background (a valuable record for the family historian) and the carved portrait showing her wearing a head scarf tied beneath the chin.
Gravestone of Mary Owen (née Corker) in the
Circular Congregational Churchyard, Charleston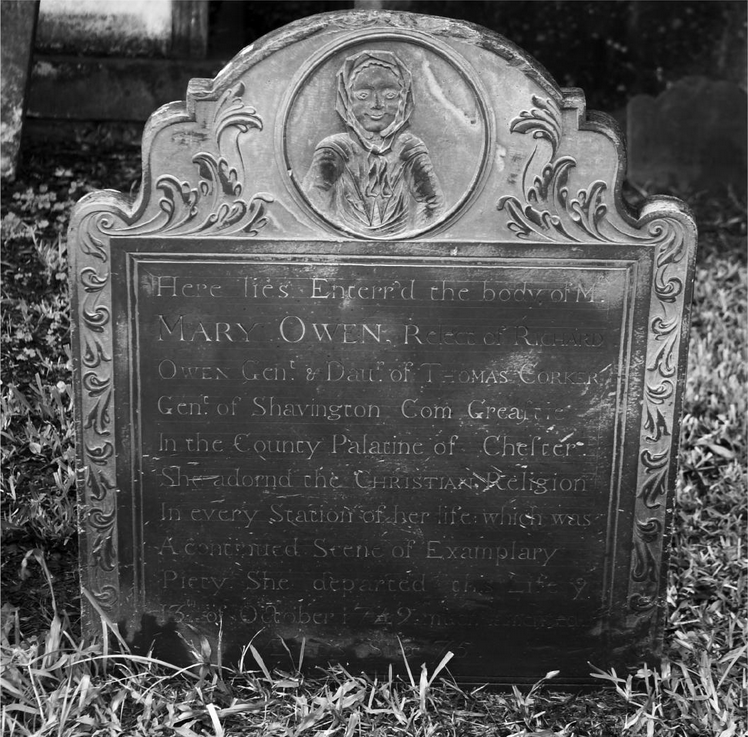 Photograph from David R. Mould and Missy Loewe,
Historic Gravestone Art of Charleston, South Carolina, 2006, pp. 101–102.
Another photograph on Flickr

.

The inscription on the gravestone, transcribed below, states that Mary was the widow of Richard Owen and the daughter of Thomas Corker of Shavington cum Gresty, Cheshire in England.

Here lies Enterr'd the body of Mrs.
Mary Owen, Relect of Richard
Owen, Gent. & Daur. of Thomas Corker
Gent. of Shavington Com Greastie
In the County Palatine of Chester
She adornd the Christian Religion
In every Station of her life: which was
A continued Scene of Examplary
Piety. She departed this life ye
13th of October 1749, much lamented.
AEtatis Suae 75
---
Note: The word relect refers to relict, an old term for widow.
The suffix gent. added after a name was an abbreviation for gentleman –
a title for a person of prominent status in the community.
Back in England, Mary Owen had a sister named Anne and a brother named Nathaniel Corker. Anne Corker married Thomas Withers and Nathaniel Corker married Hannah Bowers at a double wedding on 5 January 1693 at St Mary's Church, Wistaston, a Cheshire village close to the town of Nantwich.
Thomas and Anne had a son named Lawrence Withers. Nathaniel and Hannah Corker's four sons – Thomas, Daniel, Nathaniel, and John – were all active in the cork-cutting craft. It would be interesting to know how the Corker brothers got into the cork-cutter trade. Maybe one of them spent time in London learning the business.
The cousins Lawrence Withers and Thomas Corker, both nephews of Mary Owen, became residents of Charleston, South Carolina (2).
Thomas Corker, Merchant of Charleston, South Carolina
Thomas Corker, born about 1695, married Elizabeth Holm at Wistaston, Cheshire, on 11 February 1728. The marriage register recorded that his profession was a cork-cutter. Just under one year later, Elizabeth died in childbirth. She was buried at St Mary's Church, Nantwich on 21 January 1729; on the same day her daughter Mary was baptised. The infant Mary died one month later; her burial was recorded in the parish register of St Mary's Church, Nantwich on 17 February 1729.
Thomas Corker decided to make a new life in America. He settled in Charleston where his aunt Mary Owen ran a general store, in Church Street, stocked with imported goods from England. In her will Mary named her 'beloved nephew' Thomas Corker as the executor and sole beneficiary (3). Shortly after her death, a notice in the South Carolina Gazette, 23 October 1749, announced that Thomas Corker was dedicated to continuing the operation of the business:
Imported from London and Bristol, in the Apollo and Barbados Packet, and to be sold by the subscriber in Church Street, striped duffils, strouds, white and blue plains, with variety of other goods, proper for the season, Gloucester and Cheshire cheese, and a choice assortment of family medicines as usually imported by Mrs. Mary Owen.
All persons indebted to the said Mrs. Owen, are desired to pay or settle their accompts to my satisfaction. And those that have any just demands on her estate, may, on producing their accompts, be immediately paid, by
Thomas Corker, executor.
Note: From the Oxford English Dictionary a stroud was 'a blanket manufactured for barter or sale in trading with the North American Indians', and a duffel (also spelled duffil) was a 'a coarse woollen cloth'.
Thomas Corker participated in the deerskin trade – at trading posts the British traders exchanged manufactured goods for dressed deerskins supplied by the Cherokees and other indigenous groups of South Carolina. The skins, valued for making clothes, were packed in barrels and shipped to England to fill the orders of the garment industry (4).
In Charleston, he built up his Church Street business to a thriving department store of pre-revolutionary South Carolina. His customers could check advertisements in the South Carolina Gazette. For example, the edition of 22 September 1766 printed the notice:
Just imported, and to be sold by Thomas Corker, in Church Street:
Very good white and coloured plains; with most other goods usually brought into this province, at a very small profit.
Also, pickled walnuts, and preserved gooseberries at £3 for 6 pots or bottles, or 12s. 6d. a single one.
The South Carolina Gazette, 20 October 1767, reported:
Just imported in the St Anthony, Captain Arnold, from Bristol, and the Two Friends, Captain Ball, from London, and to be sold at little more than the first cost, by the subscriber, at his store in Church Street,
About 120 weight of lampblack in three casks, 40 weight each in pound and half pound papers, 200 gross of velvet corks, and about 30 gross of large corks for jugs or stone bottles, white and coloured plains of the best quality, an assortment of low priced linens, checks and stripes, a choice assortment of family medicines, the credit of which is such that renders it needless to recommend them.
Thomas Corker.
In the above advertisement, an interesting item to note is the '200 gross of velvet corks'. Velvet cork was the 'best kind of cork bark, which is of a reddish colour' (5). A gross is equal to twelve dozen, so 200 gross amounted to 28,800 corks. It can be surmised that Thomas Corker may have commissioned the order for corks from his brother John Corker who operated a cork-cutter shop in Uttoxeter, Staffordshire (more about John Corker below).
Thomas Corker of Charleston died 28 January 1771 in his 75th year (6). When he wrote his will he had no living wife and no surviving children. In the eighteenth century, other people with the Corker name were also settled in South Carolina. However, the connection to the Charleston merchant Thomas Corker is not known (7).
Less than three weeks after his death, a notice of an estate sale appeared in the South Carolina Gazette, 14 February 1771:
To be sold, on Wednesday the 18th day of February instant, the whole personal estate of Thomas Corker, late of Charles Town, merchant, deceased:
Consisting of household furniture, men and womens apparel, several watches, and other silver ware, a parcel of gold rings,
[more . . . .].
The sale will be opened at the deceased's house in Church Street, and finished the following day, at the Vendue House.
The sale notice was placed by the executor of Corker's estate, the Charleston merchant Josiah Smith, junior. One month later, on 12 March 1771, the South Carolina Gazette announced a sale of 'the late Mr. Corker's store goods'. A list of the store's inventory, printed in the notice, revealed an emporium of fabrics of all kinds, an array of haberdashery such as 'horn and wood button moulds' and 'hatters trimmings', a pharmacy section with an assortment of patent medicines including 'Daffy and Squire's elixers' and 'Greenough's tincture for the teeth', and kitchen wares such as 'pewter porringers and spoons' and 'copper sauce-pans and tea-kettles', along with a complete variety of household goods (8). Also listed in the sale were 'Dyche's spelling books' (an English dictionary published by Thomas Dyche) and 'history books for children'.
Possibly, the sales of personal effects and shop inventory had been completed before John Corker, residing in Uttoxeter, received the news of his brother's death. He decided to make the trans-Atlantic sea crossing to claim his share of his brother's estate. John Corker, accompanied by one of his sons, sailed on the ship Carolina Packet leaving from London and arriving in Charleston harbour on Monday, 16 March 1772 (9). They took lodgings at the house of Nathaniel Bulline in Church Street (10).
It appears that the intention of Josiah Smith, junior, Thomas Corker's executor, was to claim the entire estate for himself. John Corker, determined to assert his rights to the estate, retained the legal services of John Rutledge who was established as an eminent lawyer in Charleston. The case of John Corker v. Josiah Smith was heard at the court in Charleston on 10 April 1772. The court ruled in favour of John Corker and ordered Josiah Smith to give possession of all Thomas Corker's real estate to John Corker 'as the eldest brother and heir at law of the said deceased' (11)
John Corker secured documents detailing the property holdings of his deceased brother and submitted an auction notice to the South Carolina Gazette, printed in the issue of 30 April 1772. The auction, scheduled for 14 May, offered four properties in Charleston in addition to one thousand acres of land 'on Boggy Swamp in Williamsburg township', north of Charleston (a transcript of the auction notice can be viewed).
After a three month stay in Charleston, on Monday, 15 June 1772, John Corker made his final farewells and departed on the ship Admiral Spry sailing for Cowes on the Isle of Wight (it is assumed that his son was also a passenger) (12).
Thomas Corker's will, catalogued in the National Archives, London, left money to establish a school in Nantwich under the auspices of the 'presbeterial or congregational' society. This suggests great affection for Nantwich as his ancestral home. The will expressed the desire to:
pay a master and mistress twenty pounds per annum for teaching twenty boys and ten girls to write and read English until the age of twelve or fourteen years fit to put to some laudable trade to get their living.
The Charleston court ruling of 10 April 1772 (described above) specified that an amount of 'twenty pounds sterling' per annum was to be allocated for the 'charitable use and purpose' intended by the will. However, an account of the nonconformist churches in Nantwich does not mention the Corker school charity (13). Possibly, there was no one to follow up with establishing this charity.
Three Cork-Cutter Brothers of England
In his will Thomas Corker acknowledged his three brothers: Daniel, Nathaniel who was deceased when the will was written in May 1768, and John of 'Uttoxeter in Stafford Old England'.
Daniel Corker, a cork-cutter of Nantwich, was married at St Nicholas's Church, Liverpool, on 8 October 1734. By 1736 he was active as a cork-cutter in Nottingham. His brother Nathaniel Corker, also a Nantwich cork-cutter, married Elizabeth Craven, from Mansfield, Nottinghamshire, at St Mary's Church, Nottingham, on 22 November 1736.
The wedding of John Corker and Rosamond Poynton took place on 10 October 1725 at St Werburgh's Church, Hanbury, Staffordshire. On the marriage licence the home address of both the bride and groom was stated as Uttoxeter, Staffordshire.
John and Rosamond Corker made their family home in Uttoxeter. There is a record that the Corkers owned property in Uttoxeter Market Place (14).
The demand for the Corker cork-cutting expertise justified taking on apprentices. For example, on 14 April 1742 William Key started an apprenticeship as a cork-cutter with the master John Corker of Uttoxeter. In 1762, William Johnson became a cork-cutter apprentice in Uttoxeter under the supervision of John Corker's brother Nathaniel (15). A funeral service to memorialize Nathaniel Corker was held at St Mary's Church, Nantwich on 12 April 1766.
Four sons of John and Rosamond Corker – John, Nathaniel, Thomas and Daniel – were baptised at St Mary the Virgin's Church, Uttoxeter in the years 1734, 1739, 1743 and 1750, respectively. Career details for the two oldest sons, John and Nathaniel, have not been confirmed.
The youngest son Daniel Corker, a cork-cutter like his father, raised his family in his birthplace of Uttoxeter. None of his sons were attracted to the art of cork-cutting. Three sons of Daniel Corker became skilled watchmakers (The Corker Family: Clock & Watch Makers of Staffordshire and London).
Daniel's brother Thomas Corker set up in the cork-cutting business in Leicester, the county town of Leicestershire (16). His son, another Daniel Corker, also became a Leicester cork-cutter. Both father and son were registered voters for Leicester at the United Kingdom general election of 1826. It should be noted that, before the 1832 Reform Act, the right to vote was restricted to men who were property owners. Poll books recorded those who cast a vote and who they voted for (the secret ballot was introduced later). For the 1826 election the Leicester poll book listed: (17)
Thomas Corker, Bond Street, cork-cutter, and
Daniel Corker, York Street, cork-cutter.
Father and son voted for different candidates.
In Pigot's 1828 commercial directory for Leicester the Corkers were the only cork-cutters to qualify for an entry (18). Daniel Corker's cork-cutting workshop was still at York Street while his father Thomas Corker was now residing at Church Gate, Leicester. In the summer of 1828 Thomas Corker was aged 84.
Not long after the 1828 directory was compiled, Daniel Corker died at the young age of 37. He was buried at St George's Church, Leicester, on 5 October 1828. His father Thomas Corker, aged 87, was buried at St Margaret's Church, Leicester, on 18 January 1831.
More Corker Cork-Cutters
For the 1780 British general election the pollbook for Westminster named John Corker, a cork-cutter of New Court, Channel Row [Cannon Row], Westminster (19). Possibly he was the John Corker, the son of John and Rosamond Corker, baptised on 6 December 1734 at Uttoxeter, Staffordshire.
In the late 1770s a John Corker, in the cork-cutting profession, was living in east London at 'Bluegate Fields, Ratcliffe-highway' near the church of St George-in-the-East (20). It is not known if he was the same John Corker listed in the Westminster pollbook. Daniel Corker, the son of the London cork-cutter John Corker and his wife Sarah, was baptised on 9 August 1778 at St George-in-the-East church (21).
The London-born Daniel Corker became established as a cork-cutter in Worcester, the county town of Worcestershire. Pigot's commercial directory for 1828 had an entry for Daniel Corker, cork-cutter, 67 High Street, Worcester (22). His shop had moved to 80 High Street when a sale notice was printed in the Worcestershire Chronicle on 15 March 1843:
Sale Tomorrow: 80 High Street
Neat Household Furniture, capital Eight-Day Clock,
valuable Stock in Trade of Corks, &c.
Shop Fixtures, Implements and effects;
To be Sold by Auction: By Wheeler & Son,
On Thursday, the 16th day of March 1843, on the
Premises 80 High-street, Worcester, the Property of
Mr. Daniel Corker, Cork Cutter, (under an execution).
Sale will commence at eleven o'clock precisely.
Catalogues may be had at the office of the Auctioneers,
Foregate-street.
He may have downsized his business; a notice of another move was placed in the Worcestershire Chronicle on 21 April 1847:
D. Corker, Cork Manufacturer
Returns his sincere thanks to Friends for past
favours, and begs to inform them that he has removed
from High-street to No. 2, St Swithin Street, where
he hopes still to receive their future orders.
In the 1851 census Daniel Corker's shop had returned to the High Street, Worcester; the census return recorded that he was 72 years old, born in London. On census day 7 April 1861, his address was 2 Fish Street, Worcester. A death notice was printed in Berrow's Worcester Journal, 24 January 1863:
[Worcester, 1863]
Jan. 16, aged 85, Mr. Daniel Corker, formerly of
High Street, in this city, cork cutter.
Sheffield, Yorkshire
Another Corker cork-cutter was found in the census returns for Sheffield: Charles Corker, born about 1826, reported his occupation as cork-cutter in the 1851 census and later decennial censuses.
---
More Corker Family History
---
Online Newspaper Archives
British Library Newspapers, hosted by Gale.
The British Newspaper Archive , by FindMyPast in partnership with the British Library.
Newspapers.com by Ancestry (includes the South Carolina Gazette).
Notes
(1) Introduction of Nottinghamshire Marriage Licences, Vol. 1, British Record Society, 1930, accessed at Ancestry website.
(2) Lawrence Withers of Charleston, South Carolina was named in the will of his cousin Thomas Corker, probated in London in 1772. The will stated that Nathaniel Withers, the son of Lawrence and Elizabeth Withers, had been born in Charleston.
(3) The will of Mary Owen, probated in October 1749, bequeathed 'all my real and personal estate, for [Thomas Corker] to dispose of at his discretion and as he shall think proper amongst relations' (South Carolina, Wills and Probate Records, images online at the Ancestry website). Thomas Corker's will, probated in London in 1772, mentioned that 'Mrs Mary Owen left me heir unto all she had'.
(4) Papers of Henry Laurens: November 1, 1755 – December 31, 1758, published for the South Carolina Historical Society, 1970.
A review of the skin trade is: Deerskin Trade

, South Carolina Encyclopedia online.
(5) Oxford English Dictionary. An online dictionary

gives the definition of velvet cork: 'The best kind of cork bark, supple, elastic, and not woody or porous'.
(6) 'Extracts from the Journal of Mrs. Ann Manigault 1754–1781', The South Carolina Historical and Genealogical Magazine, Vol. 21, 1920, p. 20, Internet Archive

. The South Carolina Gazette, 7 February 1771, printed the death notice: 'Last Tuesday died, aged 75 years, Mr. Thomas Corker, this Town, Merchant'.
(7) In July 1744, a marriage licence was issued in South Carolina for Richard Corker and Elizabeth Goodale. In 1756 Richard Corker was given a land grant of 250 acres at Salkehatchie River, Prince William parish, Granville County (Online records

, South Carolina Department of Archives and History).
In the American War of Independence, a Thomas Corker served in the 2nd South Carolina Regiment during 1777 (Patrick O'Kelley, Unwaried Patience and Fortitude: Francis Marion's Orderly Book, 2006, p. 661).
(8) A description of Thomas Corker's retail establishment is given in Emma Hart, Building Charleston: Town and Society in the Eighteenth-Century British Atlantic World, 2009, p. 41.
(9) Notice in the South Carolina Gazette, 17 March 1772.
(10) Notice in the South Carolina Gazette, 30 April 1772.
(11) 'John Corker v. Josiah Smith' in Anne King Gregorie, Editor, Records of the Court of Chancery of South Carolina, 1671–1779, Washington, D.C.: American Historical Association, 1950, pp. 595–597.
A biography of Corker's lawyer John Rutledge (1739–1800)

outlines his distinguished career. The John Rutledge house

is a historic house in present day Charleston.
(12) Notices in the South Carolina Gazette, 18 and 23 June 1772.
(13) James Hall, A history of the town and parish of Nantwich, 1883, Internet Archive

.
(14) Francis Redfern, History and antiquities of the town and neighbourhood of Uttoxeter, 1886, p. 237, Internet Archive

.

(15) Register of Duties Paid for Apprentices' Indentures, 1710–1811, Ancestry website.

(16) The family connnection of the Corkers in Leicester and Uttoxeter was mentioned in a notice in the Staffordshire Advertiser on 8 July 1815:

The interest of the sum of £300 payable during
the life of Thomas Corker of Leicester, aged about 72
years, and invested in the hands of Mr. John Wilson (late
of Uttoxeter) as surviving Executor of Mr. John Corker.

John Wilson was the husband of Thomas Corker's sister Rosamond.

(17) The poll for the election of two representatives in Parliament for the Borough of Leicester, 1826, Google Book online.

(18) Pigot's Directory of Cheshire, Cumberland . . . , 1828, Google Book online.

(19) Westminster Pollbooks, London Lives

.
(20) The Proceedings of the Old Bailey

, trials held at London's central criminal court, Reference Number: t17790707-5.
(21) London Parish Records, Ancestry website.
(22) Pigot's Directory of Cheshire, Cumberland . . . , 1828, Google Book online.
---
Copyright © WhistlerHistory 2016–2023.