The Corker Family
Clock & Watch Makers of Staffordshire and London
John Corker and Rosamond Poynton were married on 10 October 1725 at the village of Hanbury located near the River Dove that forms the boundary between the counties of Staffordshire and Derbyshire. Heading upstream, in a north-westerly direction, the River Dove passes by the town of Uttoxeter, on the Staffordshire side, where the newlywed couple established their home.
John Corker founded a business as a cork-cutter in the town centre of Uttoxeter. Cork, imported into England, was cut for a variety of uses including bottle stoppers and inner soles for shoes. It seems to be a coincidence that the Corker name matched the occupation.
The parish register of St Mary the Virgin's Church, Uttoxeter, recorded the baptisms of nine daughters and four sons of John and Rosamond Corker. The youngest child, named Daniel Corker, was baptised on 19 April 1750. His wedding to Sarah Matthews took place at Uttoxeter on 12 December 1773. The marriage licence gave the information that Daniel Corker's profession was a cork-cutter.
Daniel and Sarah Corker made their family home in Uttoxeter. Possibly Daniel Corker became a partner in the cork-cutting business operated by his father in Market Place, Uttoxeter (1).
When Daniel Corker died in 1787, at the young age of 36, his oldest son John was 12 years old and his youngest son Daniel had just had his first birthday. His widow Sarah Corker, who lived to the age of 83, was buried on 9 January 1828 at St Mary's Church, Stafford, the county town of Staffordshire. Her will named four surviving sons: John, Thomas, Joseph, and Daniel, and one daughter, Rosamond, the wife of William Matthews (2). Her son Nathaniel Corker had predeceased her. Another son had died in infancy.
None of the Corker boys became cork-cutters – the trade of their father and Corker grandfather – they all trained for other professions.
Joseph Corker set up business as a whitesmith (a craftsman who may work with tin, silver, pewter and other metals) in Market Place, Ashby-de-la-Zouch, Leicestershire (3). In the 1861 census he was aged 81 living at Pegg's Yard, Market Street, Ashby-de-la-Zouch. The census return reported that his birthplace was Uttoxeter, Staffordshire.
Three brothers of Joseph Corker – John, Thomas and Daniel – all qualified as watchmakers.
John Corker provided services as a watchmaker, jeweller and silversmith in the Staffordshire town of Newcastle-under-Lyme. He kept ties to his hometown of Uttoxeter. An elaborate monument to commemorate his family was installed in the churchyard of St Mary the Virgin's Church, Uttoxeter (An Old Churchyard Memorial at St Mary's Church, Uttoxeter).
In 1792 Thomas Corker was apprenticed as a 'watch finisher' to the master James Hartwell of Uttoxeter (4). Thomas Corker married Sarah Ray, the daughter of the shoemaker Sam Ray, on 23 August 1807 at St Mary's Church in Sarah's hometown of Stafford. At the same church, nine children of Thomas and Sarah Corker were baptised (5). A trade directory for 1818 had an entry for Thomas Corker, clock and watchmaker, Greengate Street, Stafford (6).
In the 1841 census, Thomas Corker, living with his wife Sarah and five of their children, was still thriving as a watchmaker in Greengate Street, Stafford. Thomas Corker, aged 66, was buried on 9 April 1843 at St Mary's Church, Stafford. Two of his sons, John Corker born in 1812 and Thomas Corker born in 1814, carried on the family business. An 1851 directory for the town of Stafford listed the clock and watchmaker brothers:
John Corker, 15 Greengate Street, and
Thomas Corker, 31 Greengate Street (7).
A notice of business closing was printed in the Staffordshire Advertiser on 8 May 1869: (8)
Borough of Stafford – Clock and Watch Maker's Business.
To be disposed of, the business of a
Clock and Watch Maker, for 50 years carried on
in Greengate Street, Stafford. Given up in consequence of the
illness of the proprietor. For particulars and to treat, apply
to Mr. Corker, Greengate Street, Stafford.
John Corker, watchmaker of Stafford, passed away on the same day as the newspaper notice (9). He was predeceased by his watchmaker brother Thomas who was buried on 5 May 1854 at St Mary's Church, Stafford.
Row of shops at the Greengate Street Entrance
to St Chad's Church, Stafford, about 1860.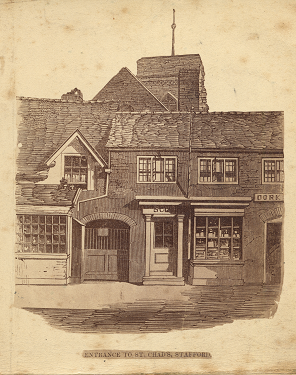 The shop cut-off at the right was the business of
John Corker, Clock and Watch Maker.
In the background, peering above the shop roofs, is
the tower of St Chad's Church.
Photograph from the 1870s of an engraved print
made in about 1860 (Staffordshire Archives,
Gateway to the Past, Object Number: P87.111.0154).
More history of the Greengate Street shops is here.
The row of shops shown in the old print was later demolished to open up an improved entrance to St Chad's Church (10).
In the 24 April 1852 edition of the weekly journal Household Words Charles Dickens, then aged 40 and an established author, wrote about a trip he made to Stafford. He did not have very kind words to say about the town: 'I find it to be by no means a lively town. In fact it is as dull and dead a town as any one could desire not to see.' He stayed for the night at the Swan Hotel, directly across the street from the clock and watchmaker's shop of John Corker. In observing the shop, Dickens surmised that 'all the clocks and watches must be stopped, I am sure, for they could never have the courage to go [in this dead town]' (11).
London
The two Corker brothers, Nathaniel and Daniel, ventured to the great metropolis of London where they married two sisters, the daughters of Samuel Shipston and his wife Jane. Nathaniel Corker married Sarah Shipston in 1808. Three years later, in 1811, Nathaniel's younger brother Daniel Corker married Sarah's sister Elizabeth Shipston. Both weddings took place at the London church of St Katherine Coleman.
In 1808 Nathaniel Corker was running a business as a 'hair dresser and dealer in perfumery' at the address 10 King's Place, Commercial Road (12).
Commercial Road, in the east end of London, laid out in 1803, was built through open fields from Whitechapel to Limehouse to connect the recently opened West India Docks to the City of London (13). King's Place was a block on the south side of Commercial Road at the cross street of Batty Street.
The block opposite King's Place, on the north side of Commercial Road, named Langley Place, was where Daniel Corker established a clock and watchmaker's shop. (The names of King's Place and Langley Place were later abolished and an orderly system of new numbers were assigned to the shops and houses along Commercial Road).
Daniel Corker's sons and nephew continued in the watchmaking trade. In December 1823 his nephew Nathaniel Shipston Corker, aged 14, the son of Nathaniel and Sarah Corker, became an apprentice watchmaker to Thomas Drysdale who was a member of the Goldsmith's Company of London (14).
Britten's index of Former Clock & Watchmakers and Their Work, published in 1894, included the London names:
| | | |
| --- | --- | --- |
| Daniel Corker | 18 Commercial Road, Whitechapel | 1820 |
| Daniel Corker | 18 Langley Place, Commercial Road | 1835–1842 |
| Nathaniel Corker | 48 South Moulton [Molton] Street | 1842 |
The two entries for Daniel were the same Daniel Corker born in Uttoxeter. Nathaniel was Daniel's nephew.
Corker,
Commercial Road, London

A Regency mahogany
arched top mantel clock,
with a signed 8" painted convex dial,
18 inches high.

Bonhams Auction Sale ,
25 September 2013
Daniel Corker, aged 74, passed away in January 1860. He had been a clock and watchmaker at 18 Langley Place, Commercial Road for over 45 years (15). He was buried in the family plot at Tower Hamlets Cemetery on Friday, 3 February 1860 (16).
In the 1850s Daniel's son Edward Samuel Corker, also a skilled watchmaker, lived with his wife Mary Ann and young children in the Commercial Road area near his parents. The Corker children were christened at St Dunstan's Church, Stepney.
On census day 7 April 1861 Edward Samuel Corker was now the head of the watchmaking business his father had operated at 18 Langley Place, Commercial Road. His sister Sarah and brother Alfred, both unmarried, were also living at home. A short time later, Edward and his family moved a short distance further east to 16 Warkworth Terrace, on the north side of Commercial Road at the cross street of Margaret Street (later renamed to Lowell Street) – just east of where Regent's Canal connects to Limehouse Basin.
In the 1860s Edward's cousin Nathaniel Shipston Corker could be found at his watchmaking shop on Kensington High Street in west London (17).
Daniel Shipston Corker, the older brother of Edward Samuel Corker, became the proprieter of a watchmaker's shop on the High Street, Tooting-Graveney, where he and his wife Emily raised their family. Tooting-Graveney, also known as Lower Tooting, is now part of the borough of Wandsworth in south London. Over the years 1850 to 1891 Daniel Shipston Corker had a succession of appointments, not all consecutively, as the 'clock-winder' for Tooting-Graveney. His duties were 'to keep wound and in good repair the tower and gallery clock' (18).
---
More Corker Family History
---
Notes
(1) Francis Redfern, History and antiquities of the town and neighbourhood of Uttoxeter, 1886, pp. 236–7 (Internet Archive

) states: 'The family of Corker owned property in Uttoxeter Market Place, now in the possession of Mr. Fearn'.
In the 1881 census, Francis Fearn, aged 45, was living at Market Place, Uttoxeter with his wife Elizabeth and sons John and Francis, His profession was 'stamp distributor (and grocer)'.
(2) The will of Sarah Corker, probated in the Prerogative Court of Canterbury on 1 February 1828, images online provided by The National Archives, London and the Ancestry website.
(3) History, gazetteer, and directory of Leicestershire, 1846, compiled by William White (Google Book online).
(4) Apprentices of Great Britain, Society of Genealogists.
(5) Staffordshire Parish Register Collection, FindMyPast website.
Family information for the the betrothed couple was given in a marriage licence for Thomas Corker and Sarah Ray issued on 23 August 1807 (Staffordshire, Dioceses of Lichfield & Coventry Marriage Allegations and Bonds, FindMyPast website).
(6) Staffordshire general & commercial directory, 1818, compiled by W. Parson and T. Bradshaw (Google Book online). This directory also named Samuel Ray, shoemaker, Greengate Street, Stafford. Possibly he was the father-in-law of Thomas Corker.
(7) History, Gazetteer & Directory of Staffordshire, 1851, compiled by William White.
(8) Historical British Newspapers, FindMyPast website.
(9) Index to UK Wills and Probate 1858–1996

(10) Information kindly provided by email, July 2018, from William J Read of the Stafford Historical & Civic Society. He stated that the buildings may have been demolished at the end of the 19th century – an ordnance survey map of the early 20th century shows the buildings are no longer there.
(11) Will Swales, The Swan Stafford: A Brief History, 2019, pp. 20–21 (accessed online); and
Charles Dickens, Household Words, 24 April 1852

, Dickens Journals Online.
(12) Insurance records of the Sun Fire Office, London Metropolitan Archives, The National Archives online catalogue.
(13) Wapping and Limehouse

, The London Docklands Development Corporation.
(14) Freedom of the City Admission Papers, London Metropolitan Archives, Ancestry website.
(15) An insurance policy dated 13 July 1812 for Daniel Corker, watchmaker, 18 Commercial Road near Greenfield Street, is in the records of the Sun Fire Office, London Metropolitan Archives, The National Archives online catalogue.
(16) Tower Hamlets Cemetery Registers, Ancestry website.
(17) The Goldsmiths', jewellers', silversmiths', watchmakers', opticians', and cutlers' directory for London, 1863 (Google Book online).
(18) William Edward Morden, The History of Tooting-Graveney, 1897, p. 334 (Internet Archive

).
---
Copyright © WhistlerHistory 2020.