An Old Churchyard Memorial at St Mary's Church, Uttoxeter
There is a record of a churchyard monument, at St Mary the Virgin's Church, Uttoxeter, in the English county of Staffordshire, dedicated to the family of John and Mary Corker. John Corker, the eldest son of Daniel and Sarah Corker, was baptised at Uttoxeter on 26 February 1775. Possibly he was the John Corker who married Mary Fox at St Dunstan's Church, Stepney in east London on 22 January 1799 (1).
Children of John and Mary Corker, baptised at the market town of Castle Donington, Leicestershire, were John Fox Corker in 1801, and Elizabeth Fox Corker and Laura Corker (possibly twins) in 1806 (2).
An 1818 directory for Staffordshire listed John Corker as a watchmaker and silversmith at Red Lion Square, Newcastle-under-Lyme (3). White's 1834 Staffordshire directory reported that John Corker was now running his business as a watchmaker, jeweller and silversmith on the High Street, Newcastle-under-Lyme (4).
John Corker of Newcastle-under-Lyme, aged 64, was buried at St Mary's Church, in his birthplace of Uttoxeter, on 3 January 1840. His wife Mary had been buried at the same church three years earlier (5).
A family sorrow was the deaths at a young age of two of the children of John and Mary Corker. John Fox Corker died in 1807, two months after his 6th birthday, and Elizabeth Fox Corker passed away in 1822 at the age of 16 years.
At the time a sewing project for young girls was the stitching of a mourning sampler to memorialize the loss of family members (6). The sampler shown below gives a tribute to John Fox Corker, the son of John and Mary Corker.

An oak framed embroidered sampler of a
churchyard memorial at Uttoxeter, Staffordshire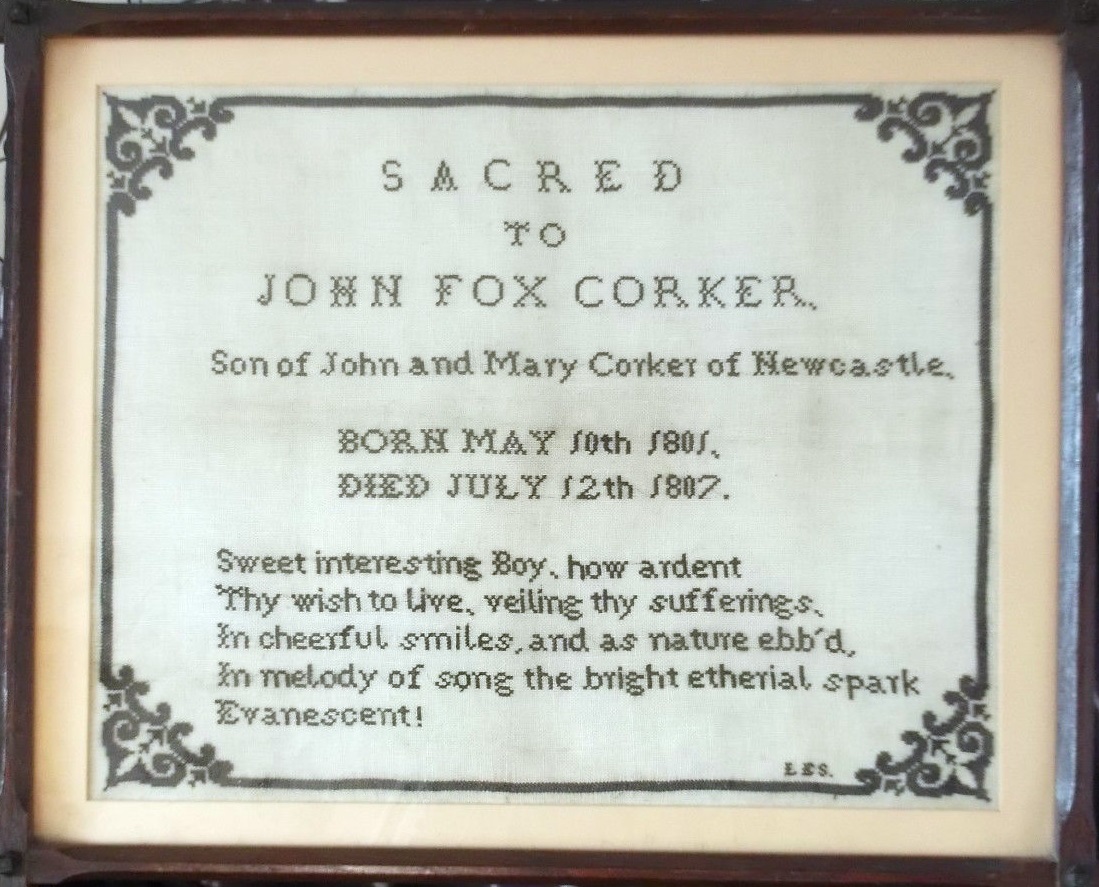 Picture offered for sale on eBay, 2016, from a seller in Sandbach, Cheshire.
Oak framed sampler, believed to be in original hand made oak frame made with dowels;
Height 23.5 inches x Width 27 inches.

Note: In the lower right corner of the sampler the initials LES may be referring to "Laura Elizabeth Saville". Laura Corker, the sister of John Fox Corker commemorated on the memorial, married Richard Saville in 1830. Their daughter Laura Elizabeth Saville was born in 1833. If she made the sampler as a school-girl project then this would date the sampler to the 1840s.


Verification that the lines in the embroidered sampler have been transcribed from a monument in the churchyard at Uttoxeter is provided by Francis Redfern in his History of Uttoxeter printed in 1886. Francis Redfern recorded: (7)
Many interesting incidents are related respecting the conspicuous monument, surmounted by a resemblance of flame, typical of love, which stands at the south of the church, and is surrounded by massive iron railings – how deep and enduring in its sorrow after their death was the affection of the mother whose two children had been entombed underneath – how bitterly she wept at the tomb long after their death, and kissed its very stones, consecrated as they were by holding the ashes of those she so deeply loved – how frequently she had the sepulchre opened to see the mere but sacred dust of all that she esteemed precious in this world, and so showing how hard it is to part with dear ones even when God calls them to a better sphere. . . . One of these was a son, and the other a daughter, and the following are the inscriptions to each respectfully:
Sacred to John Fox Corker, son of John and Mary Corker, of Newcastle, born May 10th 1801, died July 12th, 1807.
Sweet interesting boy, how ardent
Thy wish to live, veiling thy sufferings
In cheerful smiles, and as nature ebb'd
In melody of song the bright ethereal spark evanescent.

Sacred to Elizabeth Fox Corker, daughter of John and Mary Corker, of Newcastle, born January 28th, 1806, died July 12th, 1822.
Most beauteous she was, and gifted
With every charm the muses could inspire;
In song, in music, and in eloquence
She formed a star; and when she fled
Within her tomb, nature made her bower
To shed the sorrowing tear.
The family of Corker owned property in Uttoxeter Market Place, now in the possession of Mr. Fearn.
The photo below, of the churchyard at Uttoxeter, clearly shows a monument 'surmounted by a resemblance of flame' and 'surrounded by massive iron railings' – it is assumed that this is the Corker family monument described by Francis Redfern (although this has not been confirmed from other sources).
Postcard, about 1905
St Mary the Virgin's Church, Uttoxeter, Staffordshire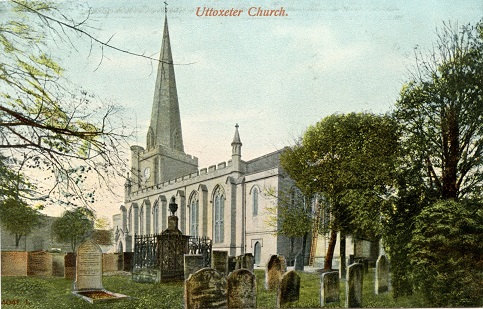 It should be noted that the exterior of the church had been altered from the eighteenth century church known to the Corker family.
At some point, the churchyard was cleared. The gravestones were removed and placed against a boundary wall (8). The next photo, taken one hundred years after the previous photo, shows a similar scene framed by foliage with clouds in the background. However, the stone monuments in the churchyard have now disappeared.


St Mary's Church,
Uttoxeter,
from the south east.

Photograph taken
about 2007,
from Wikipedia .
---
More Corker Family History
Local History
---
Notes
(1) FamilySearch Historical Records online.
Another wedding of a John Corker and Mary Fox was recorded at St Martin in the Fields, Westminster, London, on 27 March 1804. The original parish registers should be viewed to get more details.
(2) FamilySearch Historical Records online.
(3) Staffordshire general & commercial directory, 1818, compiled by W. Parson and T. Bradshaw (Google Book online).
(4) History, Gazetteer, and Directory of Staffordshire, 1834, compiled by William White (Google Book online).
(5) Staffordshire Parish Register Collection, FindMyPast website.
(6) Maureen Daly Goggin, "Stitching (in) Death: Eighteenth- and Nineteenth-Century American and English Mourning Samplers", in Maureen Daly Goggin and Beth Fowkes Tobin, editors, Women and the Material Culture of Death, 2013, pp. 63–89.
(7) Francis Redfern, History and antiquities of the town and neighbourhood of Uttoxeter, 1886, pp. 236–7, (Internet Archive

).
(8) Some memorial inscriptions St Mary the Virgin's Churchyard

, Uttoxeter (from the Wishful Thinking website).
---
Copyright © WhistlerHistory 2017.