Scenes from Basingstoke and the Area
Destination: Western Canada
---
In the later 1800s Sherborne St John, near the town of Basingstoke, was the home of John and Sarah Ann Whistler with their family of two daughters and six sons. John Whistler was the head of the Sherborne St John building and decorating firm established by his father, also John Whistler.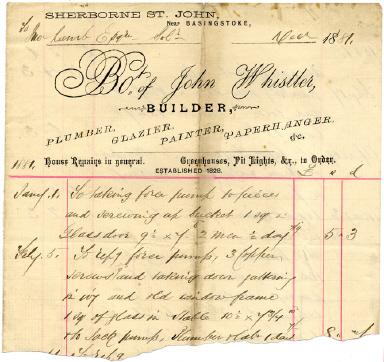 Bill Head, 1881
Sherborne St John, near Basingstoke.
Bot [bought] of John Whistler, Builder,
Plumber, Glazier, Painter, Paperhanger, etc.
House Repairs in general, Greenhouses etc.
Established 1828.
(Hampshire Museums Service,
reference: Printed Ephemera, HMCMS:WOC5226.974).
The Whistler children were known for their lively contribution to the community – they played the cornet and violin in concerts, sang in the church choir and were actors and set builders for amateur theatricals (1).
The second son William Whistler, who was born in Sherborne St John on 18 February 1863, studied to be a school teacher. His sister Kate also trained as a school teacher. Both William and Kate found marriage partners from Sherborne St John farming families and emigrated to Canada in the early 1900s.
On 22 September 1892 Kate Whistler and Charles Portsmouth were married at St Andrew's Church, Sherborne St John. Charles succeeded his father Richard Portsmouth as the farmer of Weybrook Farm, Sherborne St John. Richard was the eldest son of James and Elizabeth Portsmouth, farmers of Old Farm, Kingsclere (2).
The wedding of William Whistler and Sarah Kate Ilsley took place at Sherborne St John on 9 August 1893 (3). Sarah Kate, born in 1868, was the eldest child of William and Sarah Ann Ilsley, farmers of Brick Kiln Farm in Sherborne St John (4).
Sarah Kate's grandfather, Charles Ilsley, was listed in an 1855 Sherborne St John directory as a 'farmer, timber dealer, & brick & tile maker' (5). The landlord of Kiln Farm, the home of the Ilsley family, was William Lyde Wiggett Chute who was the owner of The Vyne, an impressive Tudor mansion. William Lyde Wiggett appended Chute to his name when he inherited vast Sherborne St John estates from his Chute cousins in the late 1820s. He initiated a programme of village modernization that included renovating the farmhouse and establishing a brickyard and tilery at Kiln Farm (6).
William, a younger son of Charles Ilsley, was baptised in Sherborne St John on 20 March 1831 (7). At the time of the 1861 census he was working as a farmer in the hamlet of Ibworth in Hannington near Kingsclere. Eventually he followed his father as the farmer and brick maker at Kiln Farm.
Bill Head, 1882
The Rt Hon Lord Bolton,
Dr [debtor] to W. Ilsley,
Brick and Tile Works,
Sherborne St John, Basingstoke.
(Hampshire Museums Service,
reference: Printed Ephemera, HMCMS:WOC5226.454).
William Ilsley passed away in 1892 (8). It appears that the Ilsley family did not continue with the business at Kiln Farm. An 1898 Sherborne St John directory listed a Henry Hill as the farmer at Kiln Farm (9). William's widow Sarah Ilsley and her children moved to Richmond Road, Basingstoke (10).
William Whistler studied at the University of London and graduated BA in 1887 and BSc in 1895. In 1883 he was a school teacher in Chertsey (between Basingstoke and London). He continued as a school teacher in the south London communities of Brixton and Peckham in 1886 and 1892 respectively (11).
As a married man, William Whistler became a teacher of mathematics and science, as well as French, German, drawing and shorthand at the Grammar School in Clee, Grimsby. A daughter Henrietta was born in Grimsby in 1894. In 1895 William accepted a position as Science Master at the County Intermediate School in Narberth, Pembrokeshire, South Wales. Sons Jack and Harold were born in 1896 and 1898 respectively. In about 1899 the prospect of a salary increase attracted William Whistler to take the post of Science Master at the Grammar School in Beverley, Yorkshire.
In 1903 William and Sarah Whistler, with their three children Henrietta (aged 9), Jack (aged 7) and Harold (aged 5), journeyed to Canada under the auspices of the Barr Colony. Sarah's brother Stanley Ilsley travelled with them. Stanley Ilsley, only 21 years old in 1903, had fought in the Boer War in South Africa (12).
The Barr Colony
In the England of 1902 two clergymen, Isaac Barr and George Lloyd, proposed creating a new settlement of British colonists in Canada. The Revd George Lloyd's letter to the editor, printed in The Times of London and reprinted in newspapers all over England, captured the interest and imagination of readers and became a stimulus for attracting prospective emigrants. The writer Lynne Bowen discussed that ex-Boer War soldiers, and other British families, recognized Canada as a place of opportunity for becoming a landowner (13).
The location of the colony was northern Saskatchewan, then the Northwest Territories, 175 miles northeast of Edmonton. The venture became known as the Barr Colony and the town founded by the colonists was named Lloydminster. The original English settlers of 1903 encountered enormous hardships and their pioneering spirit was severely tested.
The ships of the Elder Dempster Line used by the colonists for the Atlantic ocean crossing were: (14)
Advance Group
S.S. Lake Erie
Departed Liverpool: 15 March 1903
Arrived Saint John, New Brunswick: 28 March 1903
S.S. Celtic
(belonged to the
White Star Line)
About 120 Barr Colonists by way of New York
Arrived in Winnipeg: 2 April 1903
S.S. Lake Megantic
The passengers included about 75 Barr Colonists as well as a group of Mennonite settlers.
Departed Liverpool: 18 March 1903
Arrived Saint John, N.B.: 2 April 1903
Main Group
S.S. Lake Manitoba
About 1960 Barr Colonists including Isaac Barr and George Lloyd.
Departed Liverpool: 31 March 1903
Arrived Saint John, N.B.: 11 April 1903
Later Group
S.S. Lake Simcoe
Departed Liverpool: 8 April 1903
S.S. Montrose
Departed Liverpool: 21 April 1903
S.S. Lake Champlain
Departed Liverpool: 19 June 1903
The organization of the travel plans for the S.S. Lake Manitoba was fraught with troubles. Isaac Barr was indecisive about the departure date and eventually set a date of 25 March. The sailing was then delayed to 31 March. The number of passengers was uncertain and Barr Colonists holding tickets on the S.S. Lake Simcoe or S.S. Montrose were advised to switch to the S.S. Lake Manitoba (15). The final result was intolerable overcrowding for the Atlantic voyage.
The S.S. Lake Simcoe set a speed record for the Liverpool to Canada route. The Barr Colonists who disembarked from this ship made such fast progress with their land journey that they arrived at the colony site ahead of the main group of settlers (16).
Farewell to England
The Whistler family, with Stanley Ilsley, joined the advance party of Barr Colonists who sailed on the steamship the S.S. Lake Megantic from Liverpool to Saint John, New Brunswick (17). On disembarking, they were allocated a special coach on a train to Winnipeg. The train arrived in Winnipeg on the evening of 6 April. The next day, the front page of the Manitoba Free Press printed an article reporting a very favourable impression of the new settlers.
The group continued their train journey west to Saskatoon. From here they were faced with a challenging 200-mile trek by covered wagon and oxen to the colony site (18). They spent the winter in the northern prairie.
In the spring of 1904 the Whistler family decided to move on to British Columbia.
Stanley Ilsley stayed in Saskatchewan and established a farm in the Lashburn area, east of Lloydminster. The farm was named Sherborne Farm (19) – most likely after Stanley's English birth place of Sherborne St John.
Two of Stanley's brothers, Charles Ilsley and Alfred Ilsley, arrrived in Saskatchewan in 1906.
The Canadian Northern Railway came through to Lashburn in 1905 (20). The train brought the Wilson family from Walkerton, Durham County, Ontario. Sarah Ann (Sadie) Wilson and Stanley Ilsley were married on 21 August 1907 at the Anglican Mission Hall in Lashburn (21).
British Columbia
The Whistler family settled in the Fraser Valley at Cedar Valley, Mission, east of Vancouver (22). They were later joined by William Whistler's sister Kate with her husband Charles Portsmouth and family.
The Portsmouths left England from Liverpool on the steamship Lake Champlain and arrived in Quebec on 9 May 1911. The passenger list showed that Charles (aged 41) and Kate (aged 42) were accompanied by their children: Madge (aged 17), Esther (aged 16), John (aged 11) and Irene (aged 7) (23).
---
Memorials at Hatzic Cemetery, Fraser Valley, British Columbia, Canada
Photographs at Find A Grave

contributed by Scott Hayes, 2012.
In memory of
John W Whistler
1896–1928
Wm W Whistler
1863–1940
Sarah K Whistler
1868–1958


below is a close-up view of the inscription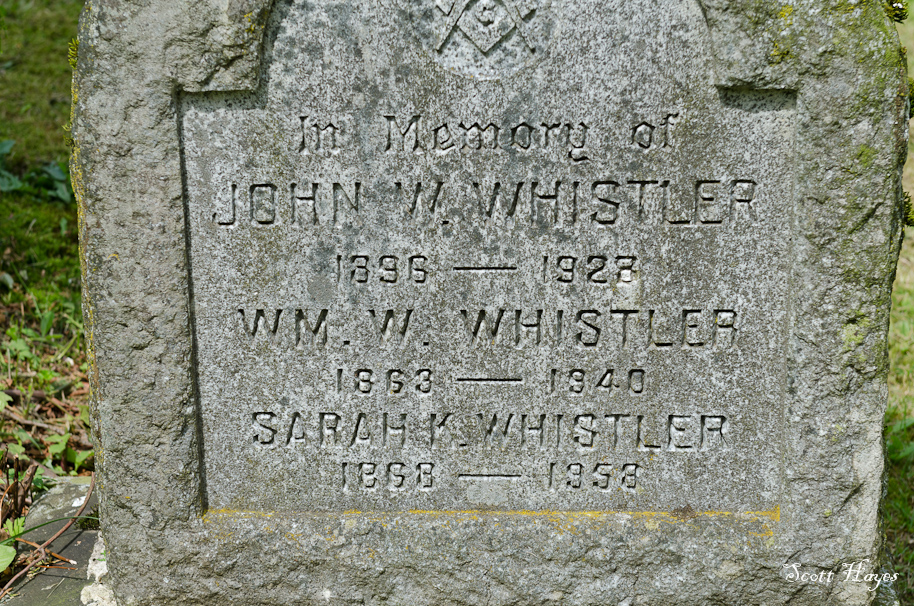 ---


Charles Portsmouth
1867–1954
and his loving daughter
Madge Portsmouth
1893–1983


Kate Anne Portsmouth
1864–1946
---
More New Canadians
A cousin of William Whistler, John Robert Cornish, also left England with his family to become a pioneer settler in the Lloydminster area. Ann Whistler, the sister of William's father John Whistler, married Charles Cornish, a farmer's son. John Robert Cornish, the son of Charles and Ann Cornish, was born in 1862. His childhood home was the farm his father operated in Wokingham, in the English county of Berkshire.
John Robert Cornish trained as a chemist and optician. The wedding of John Robert Cornish and Caroline Amelia Ayling was recorded in the parish register of St Faith's Church, Wandsworth, London, on 30 March 1893. Caroline Amelia was a widow with a young son named Frederick Ayling. In the 1901 census John and Caroline Cornish now had three sons and two daughters under the age of seven. The family home was on St Ann's Road, Tottenham, London. Frederick Ayling was living at home working as an apprentice for his step-father.
Frederick Ayling made the long sea and land journey to Western Canada in 1907. Frederick, aged 21, was a ship passenger on the Lake Manitoba arriving at Montreal on 9 May 1907. The passenger list stated that he was an "opticians assistant", born in Surrey, England, and headed for Lloydminster (24).
Within a few years Frederick travelled back to England. He returned to Canada in 1910 accompanied by his half brother Charles Cornish, aged 16. The two adventurous brothers left Liverpool on the ocean liner Victorian sailing into Halifax, Nova Scotia on 28 March 1910. The passenger list recorded that Fred was a returning Canadian who had been living in Saskatchewan for 3 years.
Two years later, more of the Cornish family boarded the steamship Ultonia at Southampton, docking at Halifax on 6 May 1912, for the start of their land journey to Lloydminster. The list of steerage passengers on the Ultonia named John R Cornish (aged 49) and his wife Caroline (aged 48) with their children Nina (aged 16), Edgar (aged 14), Hilda (aged 13), John (aged 11), and Evelyn (aged 6).
Both the Cornish and Ayling names are in the Index to Alberta Homestead Records

, prepared by the Alberta Genealogical Society.
Cornish family graves are in the Lloydminster cemetery. John Robert Cornish was buried in December 1920, and Caroline Amelia Cornish was buried in September 1939 (25).
Arthur Henry Cornish, a brother of John Robert Cornish, also settled in Lloydminster. In about 1924 he moved to the Fraser Valley of British Columbia to run a farm on Castleman Road, Rosedale, Chilliwack. An obituary notice was printed in The Chilliwack Progress on 13 October 1949 (26):
Arthur Henry Cornish, 78,
who passed away Monday at Chilliwack hospital.
Deceased was born at Ashridge Farm, Wokingham, England, in 1871.
He came to Alberta in 1911, married Mary Emma Henderson. He was a member of Chilliwack Canadian Legion branch. Deceased was a farmer all his life.
His wife predeceased him in 1927. Surviving is one brother, C. H. Cornish, in South America, and a stepson, R. E. Henderson, Rosedale.
---
Appendix A: Family History in Census Returns
The Whistler Family of Sherborne St John
The Ilsley Family of Sherborne St John
The Portsmouth Family
The Cornish Family
Appendix B: The Barr Colony in Newspaper Reports
Appendix C: The Barr Colony – A Memoir by Henrietta Whistler Butler
Appendix D: Art Gallery – William Whistler
Selected References
A discussion of bill heads accompanied the 2001 exhibition A Nation of Shopkeepers: Trade Ephemera from 1654 to the 1860s

, Bodleian Library, University of Oxford.
The history of the Barr Colony has been documented in the sources:
Pierre Berton, 'Isaac Barr's Lambs', in The Promised Land, 1984.
Lynne Bowen, Muddling Through: The Remarkable Story of the Barr Colonists, 1992.
Franklin Lloyd Foster, editor, The Trail of 1903: An account by the Rt. Rev. George Exton Lloyd, produced for the Lloydminster and District Centennial Commemorative Association Inc., 2002, (webpage: George Exton Lloyd

).
Valerie Knowles, webpage: Forging Our Legacy

, Citizenship and Immigration Canada, October 2000.
Helen Evans Reid, All Silent, All Damned: The Search for Isaac Barr, Toronto: The Ryerson Press, 1969.
Cecilia Wetton, The Promised Land: The Story of the Barr Colonists, published in 1953 to mark the 50th anniversary of the founding of Lloydminster.
Notes
(1) Laurence Whistler, The Laughter and the Urn, The Life of Rex Whistler, Weidenfeld and Nicolson, 1985, p. 3.
(2) The Portsmouth family was traced in census returns. James Portsmouth of Old Farm is named in a list of Kingsclere farmers in the 1859 directory History, Gazetteer, and Directory of Hampshire and the Isle of Wight reprinted at the webpage: Kingsclere History

.
(3) William's birth certificate records the name William Warhurst Whistler. On the marriage certificate, William's name is now recorded as William Wallace Whistler. So at some point he changed his name.
(4) The sisters of Sarah Kate Ilsley were Mabel Edith, Bertha Elba, Mildred and Winnifred and their brothers were Robert (died in childhood), Horace, Arthur, Stanley, Albert, Alfred and Charles William.
(5) Post Office Directory of Hampshire, Wiltshire & Dorsetshire, 1855 (Historical Directories, University of Leicester Special Collections Online).
(6) Rupert Willoughby, Sherborne St John & The Vyne in the Time of Jane Austen, 2002, pp. 60-61. William Lyde Wiggett Chute took up residence at The Vyne. The Chute family gave the house and its historic contents to the National Trust in 1956 (webpage: The National Trust: The Vyne

).
(7) FamilySearch Historical Records online.
William's older brother, James Ilsley, was baptised in Sherborne St John on 21 February 1819. In the census returns for Sherborne St John, James is listed as a brick-maker. Therefore, he likely worked for the brick making business on the Ilsley family farm. It appears that he never married.
(8) Unpublished Ilsley family tree.
(9) Kelly's Directory of Hampshire and the Isle of Wight, 1898 (Historical Directories, University of Leicester Special Collections Online).
(10) An 1894 directory for Basingstoke listed 'Mrs. Ilsly' at 3 Richmond Road. This directory is included in the street map Basingstoke 1894 published by Alan Godfrey Maps

.
(11) William Whistler's record as a school teacher is documented in a series of testimonials from his employers (family archives). The dates given are the dates of the letters and therefore likely refer to the end of his appointment at the school.
(12) Biographical information about Stanley Ilsley is included in the Lashburn and District History book (online edition

) compiled by the Lashburn and District History Book Committee, page 471. This reference was very kindly provided by Jean Henry, the Reference/Interlibrary Assistant at the Lloydminster Public Library.
(13) Lynne Bowen, Muddling Through, pp. 7–8 and 43–44.
(14) The webpage: Elder Dempster & Company

gives a company history.
The list of ships used by the Barr colonists was compiled by Arthur Whistler and information in Lynne Bowen, Muddling Through, pp. 46–47, 51, 63 and 213.
(15) Lynne Bowen, Muddling Through, p. 40 and Helen Evans Reid, pp. 57–58.
(16) Lynne Bowen, Muddling Through, pp. 72 and 213.
(17) A copy of the passenger list of the S.S. Lake Megantic was kindly provided by Janet Newman of the Lloydminster Archives. The list shows Mr Whistler, aged 39, science teacher, travelling with his wife and children Henrietta, John and Harold. Their destination was given as Saskatoon. Stanley Ilsley, aged 21, was also on the passenger list.
(18) Lynne Bowen, Muddling Through, p. 12.
(19) Lashburn and District History (see footnote 12).
(20) Webpage: Town of Lashburn

(21) Lashburn and District History (see footnote 12).
(22) Family history is given by Barbara Corker Whistler in Family Chronicles in British Columbia, 1885–1999.
(23) The online database Canadian Passenger Lists, 1865–1935, Ancestry website.
(24) The online database Canadian Passenger Lists, 1865–1935, Ancestry website.
(25) Find A Grave

website.
(26) The Chilliwack Progress

archives online.
Other news items extracted from the The Chilliwack Progress were:
3 April 1924 – Mr and Mrs Arthur Cornish and son of LLoydminster, Alberta, are the guests of Mr and Mrs Gregory, Castleman Road.
9 August 1939 – William Fairfax Brown, Didsbury, Alberta, has purchased and taken over the Arthur Cornish farm on Castleman Road, [Rosedale, Chilliwack].
Copyright © WhistlerHistory
All Rights Reserved.
Disclaimer
Revision date: 2016