Scenes from Basingstoke and the Area
Craftsmen of Aldermaston and Sherborne St John
---
On 14 April 1803 the village of Aldermaston, in Berkshire near the border with Hampshire, was the setting for the wedding of John Whistler and Elizabeth Patterson, a widow with young children. Elizabeth, the daughter of William and Sarah Elliott, was baptised at the nearby village of Silchester, Hampshire, on 1 November 1773 (1). Her first husband George Patterson was buried at Aldermaston on 26 September 1800 (2).
John Whistler established a business in Aldermaston as a 'plumber and glazier'. It is useful to explain this occupation. The plumber's name is derived from the Latin word 'plumbum', meaning lead, that is the origin of the chemical symbol for lead Pb. So a plumber worked with lead such as installing church roofs and repairing leaded glass windows as well as manufacturing lead pipes for transporting water. In the nineteenth century, the trades of plumber, glazier and painter were often linked together. A description of the nineteenth century plumber can be viewed.
The Whistler family continued as craftsmen in the building trades for the next three generations.
Ann, the first child of John and Elizabeth Whistler, born on 9 June 1804, was baptised five weeks later on 15 July at St Mary's Church, Aldermaston. Ann's brother John was born on 28 November 1805. The younger Whistler children, recorded in the Aldermaston baptism register, were Laura, Martha, James, Thomas and Mary. Twin boys, David and Jesse, born in 1815, died in infancy.
John Whistler died tragically in a building accident on 23 July 1825, at the age of 49 (3). Elizabeth, as the family matriarch, settled into an independent life as a widow in Aldermaston. Directories for Aldermaston, printed in 1848 and 1854, listed Elizabeth Whistler as a shopkeeper and grocer (4).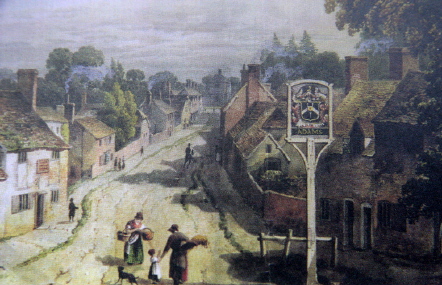 Aldermaston village and the Congreve Arms
print by G Shepherd, 1819 (image from Wikipedia

).
An 1842 map of Aldermaston, in the Berkshire Record Office, marks the location of Elizabeth Whistler's house in the village. Like other villagers, Elizabeth was a tenant of William Congreve, the lord of the manor (5).
Elizabeth Whistler, aged 87, passed away while living with her son John Whistler in Sherborne St John, Hampshire. She was buried at St Mary's Church, Aldermaston on 25 January 1860 (6).
John Whistler, only nineteen years old when his father died, was a capable heir to the family profession. His wedding to Ann Cumber took place at St Laurence's Church, Reading on 18 February 1828.
John and Ann Whistler started married life living in Ann's birthplace of Theale, in the parish of Tilehurst, near Reading. In about 1830 they moved to Sherborne St John, near Basingstoke. Their first two children, Ann and John, were baptised at St Michael's Church, Tilehurst. For the baptism of Ann, on 28 December 1828, the Tilehurst register stated that the family residence was in Theale. On 31 October 1830, the day John was baptised, Sherborne St John was named as the family home. The Tilehurst baptism entries noted that the occupation of John Whistler was a painter and 'plummer' (7).
Henry Whistler, the second son of John and Ann Whistler, was baptised in Sherborne St John on 2 September 1832.
Possibly, the Whistler family was attracted to Sherborne St John by the programme of village reconstruction that was started by William Lyde Wiggett Chute when he became the lord of the manor in 1827. Ultimately, the old cottages were demolished and replaced by smart new houses (8).
In the 1851 census for Sherborne St John, John Whistler reported his occupation as 'plumber & glazier master, employing 4 men'. A Hampshire Directory for 1855 had an entry for John Whistler as a 'plumber, painter, glazier & paperhanger' (9).
John Whistler built a pair of houses (semi-detached houses or a duplex) in Sherborne St John that became the family home named Wellington Villas (nos. 21 & 23 West End), now included on the English Heritage list of historic buildings (10).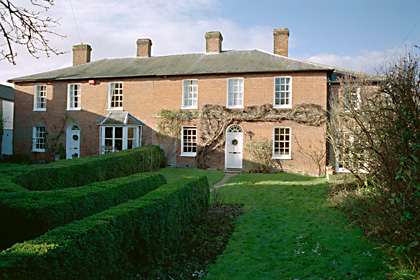 Wellington Villas, nos. 21 & 23 West End, Sherborne St John, Hampshire
Photograph © Mr Anthony Chapman taken 28 December 2002
National Heritage List for England

(Number: 1092792).
The house was described as 'a pair of small red brick boxes in the final Georgian manner, semi-detached, but presently made one for a growing family; with the builder's yard at the back' (11). In the 1861 census one of the houses was occupied by John and Ann Whistler with their children Ann and Henry. Their son John, with his new wife Sarah, was living in the adjoining house.
The younger John Whistler served as an apprentice with the London firm of Cubitt, based at workshops in Gray's Inn Road. Thomas Cubitt, who established a reputation as a master builder, is recognized as the first building contractor to offer clients expert work in all building trades. Cubitt was responsible for the development of the grand London districts of Belgrave Square and Eaton Square, as well as renovations to Buckingham Palace for Queen Victoria (12).
At the Cubitt workshops, John Whistler learned the craft of graining (tricking up wood to look like better wood) (13). Possibly he also gained an appreciation for the work of a building contractor in preparation for taking over the Sherborne St John building and decorating firm established by his father.
In London, John met his bride Sarah Ann Warhurst. Sarah's father, Joseph Warhurst, came to London from Ulverston (then in Lancashire but now in Cumbria). He married Ann Macklin Amor in the London church of St Anne Soho on 24 September 1837. Sarah Ann Warhurst was born on 26 May 1839 and baptised three weeks later at St Pancras Parish Church, Euston Road. An 1841 London Trade Directory listed Joseph Warhurst as a Harness Maker & Saddler at 10 Grafton Street, East (renamed to Grafton Way), off Tottenham Court Road (14). The family later moved to the nearby London community of Camden Town (15).
John Whistler and Sarah Ann Warhurst were married at the church of All Saints, Camden Town, Camden Street on 27 September 1860. On the marriage certificate John Whistler reported his occupation as 'grainer' and he gave his address as 5 St Stephen's Terrace (16). This house (renamed to 93 Camden Street in July 1863), directly opposite the church of All Saints, was the Warhurst family home in the census returns for 1861, 1871 and 1881. Photographs of 93 Camden Street can be viewed. The appearance is that John Whistler was a lodger with the Warhurst family in Camden Town, a convenient location for walking to the Cubitt workshops on Gray's Inn Road. A romance with the landlord's daughter may then have blossomed.
Less than one year later, on 31 August 1861, the church of All Saints, Camden Town, was the location for another Whistler wedding – John's sister Ann Whistler married Charles Cornish, a farmer of Wokingham, Berkshire. In the marriage register both the bride and the groom gave their address as 5 St Stephen's Terrace, the Warhurst family home in Camden Town. It seems that the Warhursts were congenial hosts for their London visitors.
John and Sarah Ann Whistler made their home in Sherborne St John at Wellington Villas where they raised their family of six sons (John, William, Henry, Arthur, Herbert Fred and Walter Ernest) and two daughters (Kate and Emmeline). A family chronicle is given in:
An English Family
Victorian Photographers
Family history records that John Whistler, as a young man in the 1850s, 'took photographs of local characters and scenes, and was in touch with other pioneers of photography' (17).

John Whistler's brother-in-law Stephen Warhurst of London and cousin William Beatley of Oxfordshire, who each operated a business in their father's trade, were also both skilled photographers.

In 1867 and 1868 Stephen Warhurst, the brother of Sarah Ann Whistler, had a photography studio at 94 Clarendon Road, Kensington (18). On census day 1871 he was listed as a 'Saddler & Harness Maker', aged 29, living with his wife Emily, six-year-old daughter Emily and baby Joseph at 16 Coventry St, St James Westminster.

By the 1881 census the Warhurst family had moved from the bustle of fashionable central London to suburban Leyton, now a community in East London. A description of Leyton, published in 1883/4, stated that 'the market-gardens and the farm-houses which gave the village a rural aspect at the accession of her present Majesty [Queen Victoria], have nearly all been swallowed up in like manner by the building societies, who have parcelled out the land' (19).

William Beatley, the son of John Whistler's aunt Laura, was raised in Basingstoke where his father John Howlett Beatley was a gunmaker (more about the Beatley family is in a separate section). As a married man he settled in the Oxfordshire town of Witney where his wife was born. In the 1871 census William Beatley, aged 41, was a gunmaker in Market Place, Witney, living with his wife and four children, two sons and two daughters, aged between 11 and 15. A reference to Beatley's Photographic Studio in Witney was found in an 1866 trade directory (20).
Memorials at St Andrew's Churchyard, Sherborne St John
---



Gravestone inscription:

John Whistler
Who departed this life
March 1870
[lines difficult to read]
Also of
Ann Whistler
Wife of John Whistler
Who departed this life
February 21st 1891
Aged 85 years
Her End Was Peace



Photo contributed by Erin Regan,
October 2020, Find-A-Grave .


Gravestone inscription:

In Loving Memory of
John Whistler
Born September 27th 1830
Died June 24th 1897
My Hope is in Thee Psalm xxxix 7



Photo contributed by Erin Regan,
October 2020, Find-A-Grave .
---
Appendix: Family History in Census Returns
The Whistler Family of Sherborne St John
The Whistler Family of Aldermaston and the Area
The Warhurst Family of London
The Cornish Family
Appendix: The 19th Century Plumber
Notes
(1) In the 1851 census Elizabeth Whistler was living in Aldermaston with her sister Hannah Penford. They were both widows and their birthplace was stated as Silchester, Hampshire. The baptism register for Silchester (Hampshire Record Office, Winchester) records the baptisms for daughters of William and Sarah Elliot as Elizabeth (1 November 1773), Martha (17 August 1780), and Hannah (15 September 1783). The ages for Elizabeth and Hannah reported in the 1851 census match these baptism dates. A match for the marriage of Hannah is the marriage of Hannah Elliot to William Penford on 6 June 1805 in Tadley, a neighbouring parish to Silchester (photocopy from the Tadley marriage register ordered from the HRO).
(2) The marriage register of St Marylebone, London, has an entry on 4 May 1793 for the wedding of George Patterson, bachelor, and Elizabeth Elliott, spinster, married by licence (microfilm of parish register at the City of Westminster Archives Centre, London). This may be George and Elizabeth Patterson of Aldermaston but this has not been confirmed.
(3) Laurence Whistler, The Laughter and the Urn, pp. 1–2.
John Whistler was buried in Aldermaston on 27 July 1825. The burial register recorded his age as 49 (microfilm of the Aldermaston parish register at the Berkshire Record Office, Reading).
(4) Kelly's Berkshire Directory, 1848, and Post Office Directory of Berks, Northants ..., 1854, accessed at the website: Historical Directories. The 1848 directory stated that the population of Aldermaston in the 1841 census was 662.
(5) Name index card for Elizabeth Whistler at the BRO (Berkshire Record Office); BRO references: D/D1/3/1A (list of Aldermaston residents); D/D1/3/1B (tithe map of Aldermaston village), date 1842. A history of the manor is in 'Aldermaston', V.C.H. Berkshire, Vol. 3, pp. 386–395. Congreve's manor house was devastated by fire in 1843 and Congreve died soon after. In the 1854 directory for Aldermaston (see previous Note) Daniel Higford Burr was now the lord of the manor and owner of Aldermaston Court, the newly built manor house
(6) Berkshire Burial Index maintained by the Berkshire Family History Society, and microfilm of the Aldermaston parish register.
(7) Census returns listed Ann's birthplace as the village of Theale. Until 1832 Theale was a tithing of Tilehurst and so many Theale residents are found in the Tilehurst parish registers (see Berkshire Family Historian, December 2004, p. 6). The Tilehurst parish register on CD, transcribed by the Berkshire Family History Society, was consulted at the Library of the Society of Genealogists, London.
(8) Rupert Willoughby, Sherborne St John and The Vyne in the Time of Jane Austen, 2002, pp. 59–62. The Chute family had owned the stately home of The Vyne since Chaloner Chute purchased the manor in 1653 (webpage: The National Trust – The Vyne

).
(9) Post Office Directory of Hampshire, Wiltshire & Dorsetshire, 1855 (Historical Directories, University of Leicester Special Collections Online).
(10) A reference to 'Wellington Villas, nos. 21 & 23 [West End], built in the 1830s by John Whistler' is included in the Sherborne St John Village Design Statement, 2004, p. 23, produced by the residents of Sherborne St John. References to listed buildings are discussed in the Conservation Area Appraisal Sherborne St John, Basingstoke and Deane Borough Council, 2004, p. 7 (accessed at the website: Basingstoke and Deane Borough Council

).
Laurence Whistler notes that the house name was chosen by John 'in honour of the hero [the Duke of Wellington], and perhaps to signify his Tory allegiance' (Laurence Whistler, The Laughter and the Urn, p. 2). It can be noted that nearby is the Stratfield Saye estate granted to Arthur Wellesley, the Duke of Wellington, in recognition of his leadership in the defeat of Napoleon at the Battle of Waterloo in June 1815.
(11) Laurence Whistler, The Laughter and the Urn, 1985, p. 2.
(12) Felix Barker and Peter Jackson, London: 2000 Years of a City and its People, London, 1974, p. 295. Hermione Hobhouse, 'Thomas Cubitt (1788–1855)', Oxford Dictionary of National Biography.
(13) Laurence Whistler, The Laughter and the Urn, p. 2.
(14) Post Office London Directory, 1841, Part 1: Street, Commercial, & Trades Directories (Historical Directories, University of Leicester Special Collections Online).
(16) Microfilm of parish register of All Saints, Camden Town, Camden Street at the London Metropolitan Archives.
(17) Laurence Whistler, The Laughter and the Urn, pp. 2 & 303.
(18) The Database of 19th Century Photographers and Allied Trades in London at the website: photoLondon

.
(19) Edward Walford, Village London, Vol. 1, 1883/4, reprinted by The Alderman Press, 1983, p. 485.
(20) Information kindly provided by local historian Jane Cavell, a volunteer of the Witney & District Museum (email May 2010). William Beatley was listed as a 'gunsmith & locksmith', at Market Place, Witney in The Post Office Directory of Northamptonshire, Huntingdonshire, Bedfordshire, Buckinghamshire, Berkshire, and Oxfordshire, E. R. Kelly editor, 1869 (accessed at Google books online).
Copyright © WhistlerHistory
All Rights Reserved.
Disclaimer
Revision date: 2022